You are reading 1 of 2 free-access articles allowed for 30 days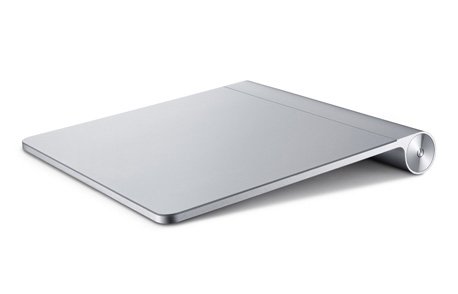 The first Multi-Touch Trackpad designed to work with your Mac desktop computer, the Apple Magic Trackpad lets your fingers do the clicking, scrolling and swiping.
A trackpad for the desktop
The Magic Trackpad is the first multi-touch trackpad designed to work with your Mac desktop computer. Using the same multi-touch technology as the MacBook Pro, it supports a full set of gestures, giving you a new way to control and interact with your screen — swiping through pages online, just like flipping through pages in a book or magazine.
Just like the trackpad on the MacBook Pro — but bigger
Made with the same advanced touch-friendly and wear-resistant glass surface, it has nearly 80 per cent more area and is the largest multi-touch trackpad made by Apple. That's 80 per cent more room to scroll, swipe, pinch and rotate.
Effortless Bluetooth technology
The Magic Trackpad works using Bluetooth technology, so no annoying cables. Once paired, you'll enjoy a reliable, secure connection up to 10 metres away. Periods of inactivity are automatically detected and it's equipped with an on/off switch to help to conserve battery life and keep you swiping for months at a time.
Get in touch with your desktop — your way
The entire surface of Magic Trackpad is one large button, so you can click or double-click anywhere.
Also supporting a full set of gestures, including two-finger scrolling, pinching to zoom, rotating with your fingertips, three-finger swiping, or switching between applications with four fingers.
And with the freedom to disable gestures you are not using – it's personal. Available to buy at Right-Click,
70 Camden St & 15 Dawson St, Dublin 2 for: €69.99
3-in-1 universal clip camera lens
Taking a photo with a smartphone is now as common as making a call or texting, so it helps to have something that enhances the photographic experience.
Attach this small device to your smartphone or tablet to take photos of remarkably high quality that would be impossible to achieve with your device's hardware.
Select the lens appropriate for the shot and simply clip the lens straight over your device to immediately enhance your camera.
Use the wide-angle lens for landscapes or large group pictures, the fish-eye lens for objects with curved edges or the macro lens for close-ups and very small items. Holiday snaps will never have looked better.
€19.95 @ www.thegadgetstore.ie
Syma S39 RC helicopter
Remote Control helicopters can be a dime a dozen so it's good to know you are getting a helicopter that is high quality and as durable as possible. With Syma, you know you're getting quality; they are world leaders in RC helicopter technology. The now-famous S107 mini remote control helicopter was the first to use a built in gyro system and it became a massive seller all over the world.
The S39 is one of Syma's newest helicopters. It is colourful and bigger than its little brother, the S36. It comes with all the technology you would expect from a great helicopter. It has the built in Gyro system so it is very easy to fly and keep stable, even to fly it and hover right in front of you.
Once you get used to the power of the rotor blades, control of the helicopter is a matter of practice and it doesn't take long to become an expert flyer. The S39 comes with the 2.4gHz frequency; this is a spread-spectrum technology, which means the copter will respond 100 times faster than a normal radio frequency. It also means you can fly a large number of helicopters without any of them interfering with each other.
So if you have two or three people in the same household who all want a helicopter, it's no problem for the S39 — all three can easily be used and flown together.
€59.95 @ www.thegadgetstore.ie
Smartune Bluetooth FM transmitter
If you want to listen to your own music in your car, this device allows you to do just that.
Simply connect to it via Bluetooth and the transmitter sends the signal to your radio via an FM frequency.
There is also in-car Bluetooth hands-free calling along with the music streaming. It's a USB charger that can take an SD card or USB stick for audio playback if you don't want to use the Bluetooth on your phone. You can connect it using a 3.5mm line-in port. A small but highly useful device.
€49.95 @ www.thegadgetstore.ie
2-in-1 charging cable
If you have both Lightning and Micro USB devices, this is an essential cable to have to hand. Charge and sync your Lightning or Micro USB device simultaneously and quickly with its super-fast charging capabilities. Great for anybody with multiple devices — also a handy cable to have at home, work or for travelling around. Take off the Lightning tip to charge your Micro USB device and be safe in the knowledge that you won't lose the Lightning tip — it's still attached.
€19.95 @ www.thegadgetstore.ie