You are reading 1 of 2 free-access articles allowed for 30 days
An unsung hero in Irish medicine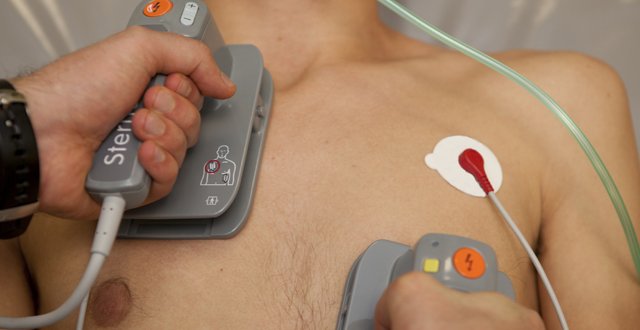 Born in County Down in 1916, Prof Frank Pantridge was a doctor ahead of his time. "His genius was his ability to see the application of his academic work rather than becoming isolated in it. He went from the laboratory to the bedside in a way that's much talked about in modern medical science but is actually little implemented," Prof Gerard Bury, Director of the University College Dublin (UCD) Centre for Emergency Medical Science, tells the Medical Independent (MI).
Prof Pantridge was also a very complex man, whose life was infused with tragedy as well as triumph. He made few friends, partly because of his abrasive personality. Yet he was a man of singular courage, who was awarded the British Military Cross for gallantry during the Second World War.
The BMJ (British Medical Journal) said of him: "Frank had a veneer of arrogance at times but this often concealed an innate shyness. On a good day he looked as though he owned the world, on a bad day he looked as though he didn't care who owned it. He was a man with staccato delivery and a quickness of wit, which often bore the Irish element of visual humour; the clicked fingers acted as punctuation and the stiff index finger directed the verbal missile."
Statue of Prof Frank Pantridge outside the Lisburn Civic Centre
He spent a number of years in the US and his defibrillator, which he developed in 1965, was credited with saving the life of US President Lyndon Johnson in 1972 after one was installed in the White House.
He maintained that any lay individual who could perform CPR was capable of using a defibrillator and it should be beside every fire extinguisher since life was more important than property.
His life-saving device underwent significant modification in the US to suit local needs, such as taking the defibrillator out of the hands of doctors and giving it to paramedics, then firefighters, and finally, as he had always hoped, it was given to members of the public.
In 1974, Dr Pantridge received recognition for his work by being elected to the Fellowship of the American College of Cardiology. Five years later, he was appointed Commander of the Order of the British Empire (CBE) in the 1979 UK New Year Honours.
But, in many ways, he was more acclaimed in America than in Europe. As Circulation, the journal of the American Heart Association, put it: "His ideas crossed the Atlantic Ocean more easily than the Irish Sea." He was saddened that it was not until about 1990 that all frontline ambulances in the UK were fitted with defibrillators. "It's easy for people to be forgotten and I think Prof Pantridge is a very important man for us to acknowledge. He transcends his home town and I think it's particularly important to acknowledge the debt we owe him across this island," Prof Bury told MI.
Prof Bury has long been an admirer of Prof Pantridge and decided to honour the doctor by naming an academic award after him. "One of our responsibilities [at the UCD centre] is to train advanced paramedics for the ambulance services who each receive a graduate diploma in EMS. When we established an award for our students some years ago it seemed to me entirely fitting, given the sort of work they're doing, that someone like Prof Pantridge should be acknowledged and identified with their work."
The idea became a reality in 2011 and the first Prof Pantridge Award was conferred in 2012. It has since become an annual ceremony and will take place this year about a month before Prof Pantridge's birthday – he was born on 3 October 1916 and died on 26 December 2004 at the age of 88 years.
"We decided to name the award in his honour because his contribution to medicine is very significant and he's also a very interesting character. I think his work to establish the principle of fibrillation in the community in Belfast was of world importance and his publication about it in The Lancet in 1966 was absolutely pivotal in the development of care in the community for critical emergencies.
"His work at that stage to put an enormous machine into an ambulance and create the first mobile defibrillator was literally world leading. Then, within a matter of years, they reduced the enormous defibrillator in the ambulance to just a few pounds of equipment. They had saved lives and they had published their data in a very rigorous fashion for the day and in a way their peers could learn from it. Clearly, those are all the sorts of characteristics we want our students to emerge from education with," Prof Bury said.
Prof Gerard Bury
Speaking about his invention on BBC Radio Ulster in 1988, Prof Pantridge said he did not create the device for personal gain or prestige but simply to save lives. "People were getting cardiac arrests in a situation where the heart stops. In the casualty department people were arriving dead, having died in the ambulance," he said. "My objective was to have almost a pocket defibrillator if that was possible."
Prof Pantridge also pioneered a specialist cardiology unit at Belfast's Royal Victoria Hospital. The debt that city, in particular, owes him was once summed up this way by a hospital spokesman: "It was thanks to Prof Pantridge and his colleagues that in the late 60s Belfast was often described as the safest place in the world in which to have a heart attack."
War survivor
Years later, amid the carnage of the Northern Ireland conflict, it was to Prof Pantridge that the British Army turned for help on the day that Lord Mountbatten was killed in an IRA bombing. In his autobiography, An Unquiet Life, Prof Pantridge recalled that he was put on an army helicopter from Belfast to Sligo to give medical advice on the quayside at Mullaghmore in 1979.
It must have been a particularly chilling experience for a man whose whole personality had been impacted by the horrors of war. He had been born into a modest farming family near Hillsborough, Co Down, and attended Friends School Lisburn and then Queen's University, Belfast, graduating in 1939, as the world was being engulfed in war.
Prof Pantridge decided to join the British Army and was commissioned into the Royal Army Medical Corps as a lieutenant on 12 April 1940. He was stationed on Singapore Island. When it fell into Japanese hands he became a prisoner of war and served much of his captivity as a slave labourer on the Burma railway.
When he was freed at the end of the war, having seen most of his fellow prisoners die, he was emaciated and near death himself, weighing less than 70lb. He had also contracted cardiac beriberi and suffered from ill health related to the disease for the rest of his life.
After the war, he worked as a lecturer in the pathology department at Queen's University, and then won a scholarship to the University of Michigan, where he studied under Dr F N Wilson, a cardiologist and authority on electrocardiography.
He returned to Belfast in 1950 and was appointed a cardiac consultant to the Royal Victoria Hospital and Professor at Queen's University, where he remained until his retirement in 1982.
"His time in the Burma prisoner of war camp must have been absolutely devastating," Prof Bury said. "I suspect his return to medicine with an orientation towards laboratory and physiological sciences may have been influenced to some extent by all that horrible experience. Professionally, he was quite remarkable in many respects. His genius was his ability to see the practical application of his academic work.
"We were going through a very high level of heart disease-related deaths in the Western world at that time. It remains the leading cause of death but we have probably had a fall of 50 per cent in the number of deaths from sudden cardiac arrest or heart disease now compared to then and what was very clear was that this epidemic of heart disease needed to be dealt with.
"Preventive strategies like lifestyle changes have been the popular measures that have since made an enormous difference but what I think Pantridge showed was that simply wringing our hands wasn't the only thing to do at that time. He went from his laboratory to an enormous clunky machine in the back of an ambulance and then to a very practical machine in the back of an ambulance and showed that lives could be saved in the community. I think that's what was most revolutionary about Prof Pantridge.
"I think in medicine we often suffer from compartmentalisation. We live in silos. And I think grumpy as he may have been, what Frank Pantridge showed was that science and the purpose of medicine can transcend the sort of boundaries that exist between hospitals and communities, between specialisms and between services," Prof Bury said. "Truly, his was patient-oriented medicine before the phrase was ever popular or even used."
Today, a short distance from his birthplace, a statue of Prof Pantridge sits outside the Lisburn Civic Centre, where it was unveiled a decade ago. "There is much talk about local heroes, but Prof Frank Pantridge really fills those shoes," said Alderman Jim Dillon, a lifelong friend of Prof Pantridge, at the unveiling.
"His work has saved 10s of thousands of lives and changed the working practices of many more. This fine sculpture will be a call to future generations to remember and learn more about a wonderful character, whose contribution to medical science could not be overestimated."