You are reading 1 of 2 free-access articles allowed for 30 days
Advances in multiple myeloma treatment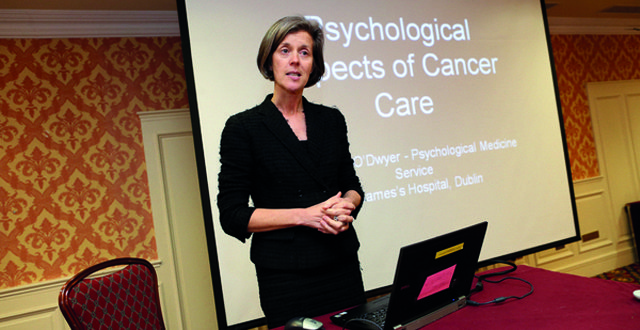 Myeloma is the second-most common form of bone marrow cancer, but only represents 1 per cent of all cancers. According to data from the National Cancer Registry Ireland, myeloma is the 19th-most common cancer diagnosed in Ireland annually.
Around 250 people are diagnosed with multiple myeloma in Ireland annually and the condition is more common in men than women. Approximately 170 deaths due to myeloma occur in Ireland annually and the number of people alive with the cancer in 2012 totalled 1,173, according to the Registry.
Life expectancy can vary from patient-to-patient and people are now living longer with the disease as treatments improve. Awareness of the disease remains very low among the general public, and the medical profession as whole, despite an increase in prevalence.
Multiple myeloma is a relapsing-remitting cancer and can be difficult to diagnose. The most common symptoms of myeloma are bone pain, recurring infection, kidney damage and fatigue. But some individuals with myeloma never experience any of these symptoms.
Increasing awareness
The 2015 MMI Patient and Family Awareness Day featured presentations from patients with myeloma, while specialists also provided information around diagnosis, nutrition, exercise, transplants and the psychological aspects of myeloma. One patient at the event had been living with myeloma for 13 years.
Dr Patrick Hayden, Consultant Haematologist and Clinical Lead for the myeloma service based at St James's Hospital, Dublin, addressed delegates at the information day on the issue of future strategies for myeloma.
Speaking to the Medical Independent (MI) following the event, Dr Hayden, who is also the Medical Director of the Cryobiology Laboratory for the National Stem Cell Transplant Unit and the Chair of MMI, said the real change in the last few decades is that the life expectancy for people with myeloma had "massively increased".
In the 1990s, there was a major treatment development called autologous stem cell transplantation, where a patient's own stem cells are used. At St James's, 90 of these types of transplants take place annually and the most common indication for transplant is multiple myeloma.
Dr Hayden explained that initially, with the introduction of transplants, it was mainly younger people who benefited, as the mortality risk associated with transplants in older age groups is too high.
'We've done nearly 500 transplants in the last 15 years and for the group transplanted in the last five years, the five-year survival is about 80 per cent'
Transplantation usually takes place between the age of 65 and 70 years and the average age of diagnosis of myeloma is between 65 and 70 years.
St James's performs about 70 per cent of all of autologous transplants and all of the allogeneic transplants in Ireland. The hospital also facilitates transplantation in all of the Dublin hospitals, except St Vincent's University Hospital, Dublin.
"We've done nearly 500 transplants in the last 15 years and for the group transplanted in the last five years, the five-year survival is about 80 per cent. That is such an astonishing improvement, even compared to 10 years ago," Dr Hayden stated.
Treatment advances
Another notable development occurred in the late 1990s, when it was discovered that the controversial drug thalidomide could be useful in treating myeloma. A next-generation version of the immunomodulatory agent called lenalidomide has significantly improved survival time in multiple myeloma patients, though toxicity remains an issue.
"They have made a big difference in terms of improving the survival of people with myeloma," Dr Hayden said.
"The other class of drugs that has made a big difference are called proteasome inhibitors."
Dr Hayden commended the Government for their introduction in Ireland, as both class of drugs were made available when they were licensed. Access to these drugs is actually better here than in the UK, he said.
"Clinicians have been able to use lenalidomide and bortezomib in patients with myeloma at all stages of the disease, which has definitely translated into the benefits we've seen in patients with myeloma," Dr Hayden stated.
Life expectancy for patients with myeloma 20 years ago was just three years, but for younger people between the ages of 65 and 70, the average life expectancy is now between seven and eight years.
Survival
Dr Hayden examined the survival of myeloma patients treated with transplants in St James's over the last five years and between 2011 and 2015 the survival at eight years was about 80 per cent.
"The paradigm is changing from being advanced malignancies with a relatively short life expectancy. What we now have are a lot of people who have a chronic disease. That means our day wards are much busier and people remain on treatment longer," Dr Hayden said.
"Nurse practitioners or clinical nurse specialists have been a key part of the advances, as there are more clinical nurse specialists working with patients with myeloma and lymphoma.
"For example in St James's, Velcade is given as a drug into the skin of the stomach subcutaneously and the administration of it is all led by advanced nurse practitioners or clinical nurse specialists. Then I see the patient every four weeks. It's a very multidisciplinary care model," Dr Hayden explained.
He stressed the value of nursing staff in treating myeloma patients and said it would be helpful if more nurses were appointed to senior roles. He believes there is a role in the future for nurse-led myeloma clinics.
Pipeline
In addition to the treatment improvements made to date, there is a promising pipeline of new drugs due to become available shortly that could further enhance myeloma care.
A new immunomodulatory agent called pomalidomide, for myeloma patients not responding to other treatments, could soon be available in Ireland (some Irish patients were involved in the Stratus trial of it), pending the completion of price negotiations, while a new proteasome inhibitor called carfilzomib is also on the horizon.
Monoclonal antibodies have also now shown significant potential for the treatment of multiple myeloma. Positive trial data on two of these drugs, elotuzumab and daratumumab, were presented at the 2015 ASCO Annual Meeting.
"We would encourage the Government to look favourably on the approval of these new agents. Ultimately, we're only as good as the drugs we have to treat people with," Dr Hayden remarked.
"It's a big challenge internationally. There's a real problem with the cost of chemotherapy but at the same time, hopefully some deal can be struck that as new drugs become available in Europe and in the States that we get them in real time."
Dr Hayden recommended the website www.myeloma.org.uk as well as www.multiplemyelomaireland.org as useful resources of information for myeloma patients.
Safe exercise
Ms Marie Murphy, Consultant Exercise and Nutrition Specialist, spoke about the importance of exercise and nutrition in helping to minimise the symptoms of myeloma at the MMI information day.
Her programme, the Murphy (METs) Programme, was used in five studies by the Irish Cancer Society around breast, bowel and prostate cancer.
The results from three studies (The Murphy (METs) Pro­gramme: The Irish Experience of Delivering Physical Activity for Cancer Survivors) have been published by the American Institute of Cancer Research (AICR).
The programme runs for 15 weeks and is specifically designed for each individual.
As myeloma affects the bones, it is important that sufferers exercise safely when undertaking aerobic and resistance training.
Ms Murphy told MI that there is very little research around exercise and myeloma but that the research that does exist shows that it can help to improve quality of life for patients.
Other speakers at the day included Dr John Quinn, Consultant Haematologist, Beaumont Hospital, Dublin, who provided information for patients newly diagnosed with the disease, and Prof Michael O'Dwyer, Consultant Haematologist, Galway University Hospitals/NUI Galway spoke about the relapsed/refractory aspect of the disease.
Ms Liz Higgins, Autologous Transplant Co-ordinator at St James's Hospital, delivered details about transplantation.
Dr Anne-Marie O'Dwyer, Consultant Liaison Psychiatrist, St James Hospital, talked about the psychological aspects of a myeloma diagnosis.
Ms Cathriona Hodgins, nutritional consultant, informed delegates about the importance of nutrition for these patients.
Meanwhile, the patient perspective was given by Mr Joe O'Brien and Mr Maurice O'Connell, who spoke about their personal experiences of living with the disease.
Multiple Myeloma Ireland
With research showing that only 4 per cent of the public knew of multiple myeloma, a group of Irish clinicians, nurses and carers involved in the treatment and care of those with this cancer launched Multiple Myeloma Ireland (MMI) in 2013. MMI is a charity organisation committed to raising awareness of this cancer and to promoting the innovative treatments currently available to help patients manage it.
It is the only charity in Ireland dedicated to myeloma and evolved from a support group in the midlands led by advanced nurse practitioner in haematology, Ms Mary Kelly.
The charity provides information and support to patients with multiple myeloma, their families and carers. The charity (www.multiplemyelomaireland.org) also facilitates and promotes education and research and raises public awareness of multiple myeloma, an incurable disease.
The charity currently has three support groups located in Limerick, Dublin and the midlands and there are plans to develop more support groups and events in other locations.