You are reading 1 of 2 free-access articles allowed for 30 days
Action on alcohol reduction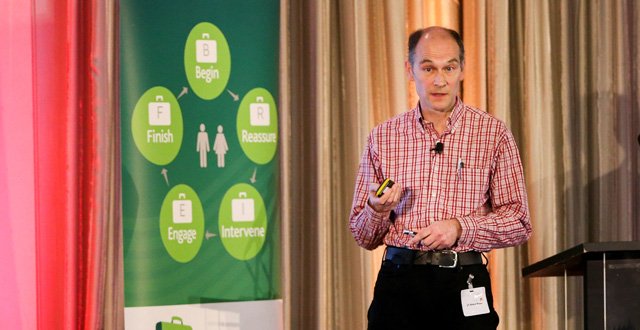 The meeting, held in Carton House, Maynooth, was attended by GPs, specialists and other healthcare professionals and heard from two physicians who shared their expertise in treating patients who consume alcohol to excessive and harmful levels.
First to address the packed venue was Dr Richard Watson, who has been a GP in Glasgow for more than 20 years. Dr Watson is a member of the Executive Committee of Scottish Health Action on Alcohol Problems (SHAARP), where he was co-developer of the Certificate in Screening and Brief Interventions for Alcohol in Primary Care, an initiative that Dr Watson also ran.
In addition, he was RCGP Scotland Clinical Lead on Substance Misuse and in his practise, Dr Watson specialises in treating patients with alcohol dependence and high-risk drinking habits.
The meeting then heard from Prof Jonathan Chick, who has served as Consultant Psychiatrist at the Alcohol Problems Service at the Royal Edinburgh Hospital and as Senior Lecturer at the Department of Psychiatry in the University of Edinburgh. Prof Chick has been an advisor to the WHO and various government departments in a number of countries, including Canada, Australia, Brazil and the US and was Principal Investigator in 10 clinical trials exploring treatments for preventing relapse in alcohol-dependent patients.

Prof Jonathan Chick addressing the meeting
Prof Chick is currently Honorary Professor at the Queen Margaret University in Edinburgh.
The meeting, which was facilitated by Lundbeck, was Chaired by Farranfore GP Dr Eamonn Shanahan, who commented: "In the last year, there has been a lot of debate in Ireland around alcohol, particularly around how much we consume, where and how we consume it, how easily available it is, and how much it costs, as well as how prominent a role it plays in communities.
"There has, however, been very little debate around the need for us to look at treating the 1.3 million patients who are classified as 'harmful drinkers'," Dr Shanahan continued. "And yet we know from the excellent work carried out by the HSE that the cost of alcohol dependency and abuse to individuals who suffer with it, their families and friends and to our healthcare system is significant."
Two deaths per day
"According to the Chief Medical Officer, in Ireland, a 30 per cent reduction in alcohol-related harm would result in a cost-saving to the Exchequer of billions and every day, two people die as a result of alcohol dependency," he remarked.
In his presentation, titled 'Identification of Alcohol-Dependent Patients in Healthcare Settings', Dr Watson began by outlining the huge economic cost of alcohol abuse, which is estimated to be €3.7 billion per annum in Ireland.
He also provided the attendees with an overview of the rates of alcohol consumption in Europe and beyond. "In every country in the world, men drink more than women — there's no exception," Dr Watson observed.
Turning back to Ireland, he highlighted that "consumption stands at 10.9 litres per capita, despite 19 per cent abstainers, and 25 per cent of Irish men report binge-drinking at least once a week… It's not just about how much alcohol is taken, it's also about how it is consumed". He also drew attention to the fact that there has been a major shift from the pub to "home drinking".
Dr Watson also focused on the ICD-10 definition of 'Dependence Syndrome': "A cluster of behavioural, cognitive and physiological phenomena that develop after repeated substance use and that typically include a strong desire to take the drug; difficulties in controlling its use; persisting in its use despite harmful consequences; a higher priority given to drug use than to other activities and obligations; increased tolerance; and sometimes a physical withdrawal state."
Three or more of these diagnostic criteria must be present in the previous year to meet the definition, said Dr Watson.
There is a high unmet need for treatment in the community, he explained. "High prevalence rates for alcohol dependence, coupled with under-treatment, has led to a very large pool of patients with unmet medical needs," he stated.
His talk — which also included research showing the links between alcohol abuse and insomnia, a range of cancers, blood pressure and psychiatric comorbidities — concluded with a brief look at the options for physicians in encountering alcohol-dependent patients. These included empathetic interviewing and a range of 'ice-breaker' sentences, such as: 'Many people drink alcohol in the evening to relax or sleep — how about you?'
"Approaching the physical health concerns associated with alcohol abuse and dependence with the patient is important," Dr Watson told the meeting. "If a patient reduces their drinking, even from a 'very high' to a 'high' level, this has a dramatically positive influence on their health."
Clinical research
In his talk, Prof Chick focused on pharmacological therapies to help those classified as 'alcohol dependent'. His presentation, titled 'Nalmefene: A New Treatment Option in Alcohol Dependence', highlighted a range of clinical research and trials showing the efficacy of a number of pharmaceutical therapies, for both abstinence and alcohol reduction.
"Until now, in Ireland there have been disulfiram, acamprosate and naltrexone and these are all indicated for abstinence," Prof Chick told the attendees. "Selincro is not a treatment for alcohol withdrawal," he pointed out. "In fact, in many cases it is started while patients are still drinking," he said, emphasising that it should be administered in tandem with psychosocial supports.
In the studies on Selincro (nalmefene), it was administered on an 'as-needed' basis, Prof Chick explained. "In other words, it is to be taken on days when the patient anticipates a risk of drinking or if they are intending to drink," said Prof Chick, who elaborated that the trials showed that Selincro (nalmefene) reduced alcohol consumption by 61 per cent after six months of treatment.
He told the attendees that the medication works on areas of the brain that influence "habits, desires, impulsivity and pleasure-seeking" and is rapidly absorbed, with peak plasma level at one hour.
He also highlighted the BRENDA approach to combining medication and psychosocial treatments for addictions and the importance of brief interventions with patients to reinforce the importance of goal-setting and motivation, positive feedback when appropriate, a problem-solving approach, and reinforcing adherence.
With Selincro (nalmefene), he reported that 80 per cent of patients had good adherence to the 'as-needed' dosing regimen and "this helped to engage patients in the active management of their own illness". The therapy should only be prescribed in patients who continue to have a high drinking-risk level two weeks after their initial assessment and in patients who do not require immediate detoxification, he stressed.
"The beauty of this as a once-a-day, as-needed substance is that the opioid receptor remains occupied well beyond the level of drug in the bloodstream falling off.
"The receptor occupancy continues on 16 hours later," explained Prof Chick. "So it can be given daily and the action we're looking for is still present many hours later."
Blood pressure
Speaking to the Medical Independent (MI) at the meeting, which also included a lively Q&A session, Dr Watson explained that more than one-quarter — in fact almost one-half — of the Irish population are drinking hazardously. "The level of alcohol-related liver disease in Ireland is greater than that in the UK and Ireland is certainly at the higher end of the European scale overall," he commented.
"It's very important that GPs ask pretty much every patient about their drinking habits and if you're not asking the majority of patients about their drinking habits, you're not doing your job properly, as far as I'm concerned." As an example, Dr Watson explained that if a patient is on medication for high blood pressure, for example, "you can have them on triple-therapy but you won't control their blood pressure if they are still having several drinks every day".
He also explained that the concept of alcohol units has the potential to cause confusion — a unit of alcohol in Ireland is 10 grammes, whereas in the UK it is 8grammes, while the WHO uses 14grammes as its measurement. "This is something to bear in mind when reading articles," he pointed out.
"The large majority of people who are alcohol-dependent do not have physical symptoms, such as withdrawal," Dr Watson told MI. "They don't even have massive tolerance; they can be alcohol-dependent with just social and psychological features — this is a concept that I myself didn't grasp until a few years ago."
Meanwhile, Prof Chick explained that the recognition of alcohol dependence as a disease in recent years is thoroughly evidence-based. "The understanding of alcohol as a disease is supported by a lot of hard-headed research," he told MI at the meeting. "This research has shown that brain cells and transmitters are altered so that the actual ability to make a choice on whether to drink or not is diminished in these people. While we may be able to decide whether or not to have a second drink, to some people the brain becomes altered so that this becomes a hard decision for them."
Findings such as these have led to greater acceptance of alcohol dependency as a genuine disease, leading to better understanding that there is an enhanced opportunity for physicians to treat the condition.
Another aid
Prof Chick referred to Selincro (nalmefene) as an option for physicians in treating alcohol-dependent patients. "This is another aid doctors can offer to patients," he told MI. "Clearly, the doctor will identify some people for whom total abstention has to be the correct medical advice and fortunately, there are supports out there in the community for them, such as Alcoholics Anonymous (AA).
"Unfortunately, not everybody 'clicks' with the AA approach," he continued. "Often, we see people who seek help and recognise that the overall quantity of their drinking is likely to be a cause of illness and is damaging their relationships or work prospects, for example, but who don't want to stop drinking completely.
"They may have tried to reduce and have failed to do that — that's where Selincro comes in."
Dr Shanahan also commented on the night: "Selincro is not for everyone, but for many it does offer a new path and a more successful option that can start them on the path to recovery, providing a foundation upon which they can reduce their alcohol consumption.
"Until very recently, the only treatment available has been abstinence. Whilst that might be the best option for some, as an alternative option for suitable candidates, clinical trials have shown that Selincro reduces drinking by 61 per cent when prescribed with psychosocial support."