You are reading 1 of 2 free-access articles allowed for 30 days
A task-and-a-half: Untangling the transfer of tasks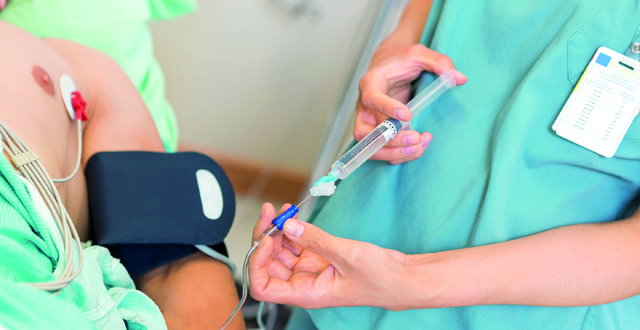 The curious incident of the transfer of tasks from NCHDs to nurses: While a final verification report says that the four tasks have mainly transferred, NCHDs firmly disagree.
The tasks-transfer agreement between medical and nursing unions and health service management was approved by the Department of Public Expenditure and Reform in February 2016. The agreement aimed to shift the following four tasks from NCHDs to nursing staff: Intravenous (IV) cannulation; phlebotomy previously carried out by NCHDs outside of normal hours; first-dose IV drug administration; and nurse-led delegated discharge.
It was agreed that verified implementation of the agreement would lead to reinstatement of a premium payment to nurses, in place prior to the Haddington Road Agreement, for hours worked between 6pm and 8pm.
Welcoming the development at the time, the then Minister for Health Leo Varadkar said "people have been talking about nurses taking over these tasks from junior doctors" since he was a medical student.
The tasks would not be the sole responsibility of any one grade but nursing/midwifery practice "should expand to incorporate them", noted the agreement. This "should not de-skill medical staff". Responsibility for implementation "will be focused in the first instance at local level", the agreement stated. On the management side, responsibility "will lie with the Chief Operating Officer, Medical Director and Director of Nursing". The agreement also provided for establishment of Local Implementation Groups (LIGs) and a National Implementation and Verification Group (NIVG).
The NIVG comprises of representation from the IMO, Irish Nurses and Midwives Organisation (INMO), SIPTU, Department of Health and HSE. It is independently chaired by Mr Sean McHugh.
Nurses' pay
In October 2016, the HSE stated that the verification process in the Acute Hospitals Division had been completed and that restoration of a premium payment to nurses would commence from November 2016 under the agreement's terms.
The final report of the NIVG on the process in acute hospitals, finalised in recent weeks, has concluded that the tasks have "in the main" been transferred. During 2016, the NIVG analysed responses it received from acute hospitals and arranged site visits to each of the seven Hospital Groups in June 2016.
An analysis of 38 responses from acute hospitals and Hospital Groups showed that "substantial progress had been made across all tasks… with greatest progress in IV cannulation and phlebotomy, followed closely by IV first-dose medication. Nurse-led discharge had made significant progress but much less than the other three tasks. This had been envisaged from the outset, as it requires a greater cultural shift of the task through the medical profession and onto the nursing profession.
"In a substantial majority of cases, training needs had been identified, Local Implementation Groups put in place and procedures for transfer and/or sharing of the tasks in place."
In November/December 2016, the NIVG visited four Hospital Groups for a second time, with "positive progress and outcomes reported in each location". These sites were the Dublin Midlands Hospital Group, Ireland East Hospital Group, Saolta University Health Care Group and UL Hospitals Group.
In the final report, the NIVG said it had "noted specific concerns raised by NCHDs in relation to the transfer of tasks not having been completed. The Group acknowledged these concerns at a meeting with NCHD representatives. Separately, it was aware from its own work that the process has not been finalised — for example, training has not been completed in many sites."
Technically, the agreement provided for the initiation of the transfer of tasks. In addition, it did not state that the tasks would be exclusively undertaken by nurses. However, even allowing for these important caveats, many doctors express frustration at what they describe as a widespread lack of progress in terms of nurses undertaking the tasks in practice.
"Transfer of tasks is currently the exception and not the rule," an intern working in a west of Ireland hospital told the Medical Independent (MI).
This doctor, who did not want their name published, said transfer of tasks is "extremely patchy, with it being down to individual nurses who want to use their training doing it". On most wards, "it is completely non-existent and clearly a culture sent down from the older nursing staff and managers to not do it".
Slow process
Dr John Duddy, IMO NCHD Committee member, told MI: "I think probably the [NIVG final] report is accurate, based on the letter of the agreement where hospitals have been shown to have plans in place to implement the transfer of tasks, but actually seeing that implemented on the ground has been a much slower process.
"I can just speak to my experience here in Cork, that it hasn't happened on the ground in Cork University Hospital and there is still ongoing work [required] to make that happen."
The problem surrounds all four tasks, based on what Dr Duddy has heard from other NCHDs.
"One would have thought that first-dose antibiotics would be [the] one that is easiest to implement because it doesn't really require any change in policy or new training, but even that is providing difficult in some locations."
Dr John Duddy
The INMO has previously alluded to nurse staffing shortages and slow access to training in some locations as hampering progress. However, many doctors also believe a 'cultural shift' is required within the nursing profession.
Mr Liam Doran, Secretary General of the INMO, tells MI any suggestion of nursing culture being an impediment is "rubbish".
"The agreement is quite explicit — we will take on the four tasks when the nursing resource is being presented and training has been done."
He added that he did not think health management would restore a premium payment to any grade "without it being shown they are doing something in return".
The NIVG's final report noted that there was a facility to refer alleged breaches of the agreement to the Group's independent chairperson but this never occurred.
"It's been difficult to gather evidence on that," said Dr Duddy, who made reference to a section of the final report that outlines a procedure which can be used to raise ongoing concerns. This was inserted to "provide confidence to NCHDs" that there is a continuing mechanism for complaint. He emphasised the importance of reporting these issues.
"It's just like the EWTD [European Working Time Directive]. Unless NCHDs report these things to the IMO, there isn't a lot the IMO can do about it and it's been very difficult to get that evidence on paper from NCHDs. I would be asking NCHDs, if they see it's not happening in their location, to please inform their local IMO rep or get in touch with IMO House."
Dr Duddy said there needs to be impetus from local hospital management to make it happen. "If I was a manager or CEO of a hospital, I'd be looking at the fact that my nursing wage bill has increased in the past 12 months, and that was on the basis there would be an increased productivity from that part of the workforce and I'd be asking my directors of nursing and nursing managers to show that they have actually implemented that increase in productivity from that part of my workforce, and if it hasn't happened, I'd be asking questions as to why [the hospital] is paying extra money to staff and they haven't taken on the extra work they said they'd do."
Directors of nursing have a crucial role in providing impetus to the process and putting relevant plans in place, emphasised Dr Duddy. "That was my experience at Beaumont Hospital, for example, where the management, Director of Nursing, very much took that on and rolled-out a very good plan and they were able to make it happen on that basis."
Training
The NIVG's final report acknowledged that the "degree of progress was affected in some areas by staffing levels, turnover and in particular inconsistent access to training". It said training is "key to the ongoing implementation and achievement of the transfer of tasks".
"The NIVG will be writing to Hospital Groups to emphasise the need for sufficient and realistic access to training for nurses and midwives, as well as full implementation of all elements of the original agreement relating to training," according to the final report.
A HSE spokesperson told MI: "The transfer of tasks process has been progressed to date through a significant collaborative approach between the HSE, Department of Health, INMO, SIPTU nursing, the IMO and the acute hospitals. This has uniquely involved representatives of each organisation visiting hospital sites around the country to ensure that staff and management were committed to and delivered the required change. This collaborative approach is ongoing. It is the view of the NIVG members that the revised practices have commenced and will become embedded across the system over time."
The number of nurses who completed training on two of the tasks — ie, peripheral intravenous cannulation and venepuncture — increased year-on-year from 2015 to 2016 by 66.3 per cent and 38 per cent respectively, stated the HSE's spokesperson. "Many hospitals indicated that it would be the end of 2017 before training programmes in relation to the tasks would be completed."
Among the recommendations of the NIVG's final report is that LIGs be retained; that a module on task-sharing be introduced into induction processes for NCHDs and nurses/midwives; and that continued implementation of task transfer/sharing be included as a key performance indicator within HSE Service Plans from 2018.
Work in relation to implementation and verification in other sectors is ongoing, according to the final report.
The NIVG has agreed that it will remain available to the parties if it is felt that it can assist in the future, it stated.