You are reading 1 of 2 free-access articles allowed for 30 days
A surgical historiography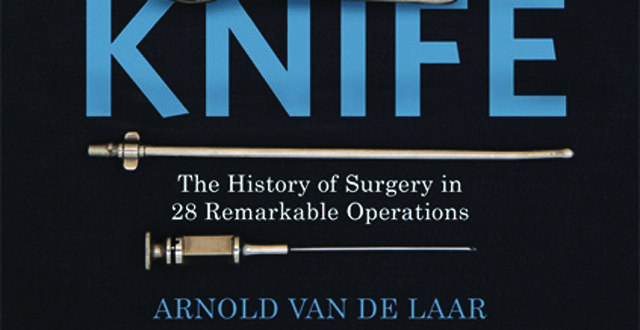 The text is aimed at a general audience and there is an excellent glossary and index, as well as explanatory boxes. It should be of interest to surgeons, wannabe surgeons, would-be surgeons in training and to curious medics. It is well-researched and contains references from 1885 to 2011. Mr van de Laar is full of knowledge and information and his book is a treasure trove of 'did-you-knows'.
He maintains that the murder of Lee Harvey Oswald was the first to be witnessed live on television (but was it?); that Albert Einstein's abdominal aortic aneurysm was wrapped in cellophane, giving Einstein an extra seven years of life; that the plaster cast was invented by a Dutch army surgeon in 1851; that anaesthesia was originally referred to in England as 'Yankee humbug'; that inguinal hernias and varicose veins are unique design failures seen most in upright bipeds; and that the term 'orthopaedics' literally means 'straight child'.
Chapter 12 on diagnosis will be of great interest to all surgeons and physicians. His premise is that surgeons are more personally involved than physicians, who can afford to be more aloof.
"Because, as a surgeon, you have to answer to yourself for the fact that a patient's recovery depends on your skill, you want to be absolutely sure what is wrong with him before you start." One could argue the toss with that statement.
"Surgeons want to remove the cause, preferably with a knife," van de Laar continues.
There are fascinating descriptions of cutting stones from bladders in medieval times. Bladder stones are now rare, but an egg-sized bladder stone taken from a five-year-old child in the 1980s resides on my shelf.
Van de Laar recounts the story of Jan de Loot, who in the year 1651 surgically extracted a sizeable stone from his own bladder with a knife and his own hands, with the help of an unskilled apprentice assistant.
There are interesting chapters on JFK's assassination, Lee Harvey Oswald's murder, Harry Houdini's appendicitis and peritonitis, Queen Caroline's incarcerated umbilical hernia from which she died, and the shooting of Pope John Paul II resulting in multiple surgeries from a Vatican hierarchy of surgeons.
The glossary is a model for technical books, with clear-cut explanations and dissected translations of Latin medical terminology. The book is seeded with boxes explaining haemorrhoids, staples, hernia, subelcavian steal, towers and trocars, knives and forks, traumatology and orthopaedics, et al, and contains pieces on great surgeons including Paen, Billroth, Liston, Kocher, Lister, Halsted and de Bakey, to mention a few.
Death on the table is a surgeon's worst nightmare. Van de Laar is at pains to separate complications from surgical errors. Surgeons have been good at self-analysis and have a number of measures by which to score themselves, such as 30-day mortality, morbidity, recurrence rate, five-year survival rate, as examples. Complications, even lethal complications, are a calculated risk in all operations. In Roman times, surgeons were paid if the surgery was successful, but they were paid nothing if it wasn't. If surgery went wrong they were called to account. If a patient died at the hands of a surgeon, the surgeon's own hands were to be cut off.
A fascinating, illuminating read. From castration to minimally invasive surgery. From primary healing to secondary healing to non-healing. From wound bed to gas gangrene. From acute lucrative appendicitis to rampant peritonitis. From smoking to lung cancer and multiple other consequences.
Most surgeons will enjoy this book of history and graphic stories and probably ask themselves: Why didn't I think of a book like this?