You are reading 1 of 2 free-access articles allowed for 30 days
A stunning SUV and yes, it is a Skoda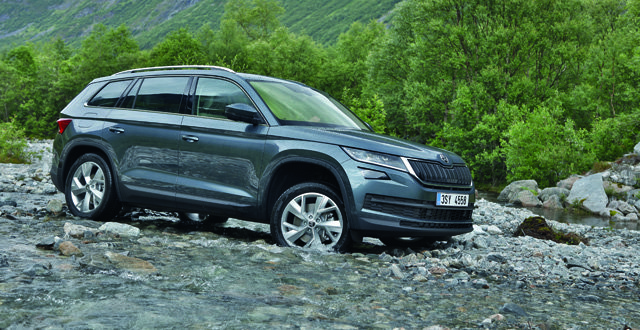 I think we need to get over the long-standing 'brand snobbery' associated with Skoda.
No longer should people in sailing or golf clubs hide or whisper when mentioning the brand; gone are the days of the silly green badge and Soviet-looking eco-boxes.
Now we have stunning-looking, full-sized SUVs and executive saloons, some larger than a Mercedes S-Class, with umbrellas built into the doors and enough rear leg room to play five-a-side.
The much-maligned Skoda marque has come on in leaps and bounds over the past few years. The brand's dramatic rebirth, and I'm not just talking about removing the silly green bits from their logo, should by now have earned it your attention.
After spending some time living with Skoda's Kodiaq SUV, I've decided that the Czech company has to be the best value for money on Irish roads.
In fact, I'd go as far as to say that the BMW X3, Audi Q5 and even the Land Rover Discovery Sport should be watching their backs.
Getting the Kodiaq right was so important to Skoda's owners, the Volkswagen Audi Group, that they put their top Skoda man on the case, Jozef Kaban, who designed none other than the Bugatti Veyron, and who was recently poached by BMW.
I was handed the top-of-the-range, 190bhp, 4×4, 2.0 diesel version of the Kodiaq, with the automatic DSG gearbox and all the bells and whistles, including phone holders in the headrests, to keep back-seat creatures entertained.
It also boasted a massive eight-inch infotainment system which was simple to use and featured Apple CarPlay, Android Auto and MirrorLink.
The cabin was hugely spacious, the seats were comfortable and everything felt terrifically well built.
Perhaps too well built, if that is possible, as my mum and girlfriend both struggled with the weight of the passenger doors.
The Kodiaq is available with five or seven seats, however it is only €1,000 for the extra two seats in the rear, which fold away nicely and give you the option when or if you need it.
In saying that, the third row is only for small children — I wouldn't recommend trying to shoe-horn full-sized humans into those seats, especially if they have long legs.
Despite its frankly planetary size, my range-topping test car was no slowcoach, once I put it into 'Sport' mode and plonked my hoof down, the great, white bear roared off, reaching 0-100kph in 8.6 seconds and on to a top speed of 210kph.
There is also a 150bhp version, which I wouldn't bother with, but I assure you most Irish buyers will opt for.
Finally, Skoda offers a small, 1.4-litre TSI petrol variant, but if you are going for this motor you are probably better off looking at the Kodiaq's little brother, the Karoq.
The motors range from 125bhp to 190bhp, which are turbo-charged, with direct injection and feature a stop-start system, brake energy recovery and a thermo management system.
The model I had was around €40,000, which is a complete steal when compared to other well-built European brands. You can pick up a smaller Kodiaq for even less, with the base model kicking-off at €29,000.