You are reading 1 of 2 free-access articles allowed for 30 days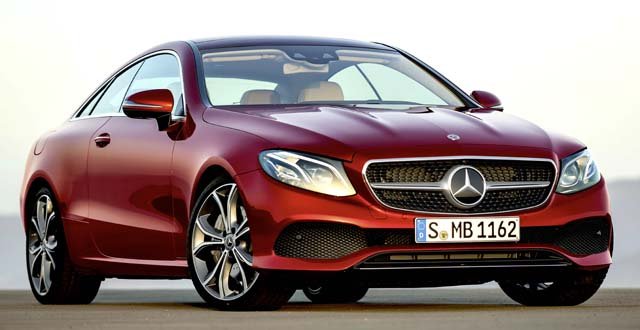 I was at a Mercedes event recently (remember we used have these for drug launches? Those were the days… ). Anyway, Mercedes appears to have increased sales (about 30 per cent) in a falling market (17 per cent at the time of writing). I hope it's the quality of their product as opposed to the quality of their sales force, but you'd never know. They are getting much more competitive in their pricing strategy and we can look forward to benefitting from this. Anyway, I have written a few words before about the new Mercedes E-Class coupe. You're about to hear more.
Years ago, you could have had Mercedes saloon or estate, petrol or diesel, E-Class or S-Class. Or SL-Class. Now, the E-Class range consists of saloon, estate, coupé and cabriolet. Famously, the previous E-Class coupé was based on the chassis of the lower segment C-Class, and it pulled it off quite well. Now, it is based on the current E-Class, but not that you'd notice.
All corners are shod with low-profile tyres, seating position is lower and the car is lower overall. With the sporty figure-hugging seats and the low roof, you feel closer to the ground and more involved in the workings of the car. It's Mercedes, but not as we have known it in the past.
My wife, a lover of all things Mercedes, doesn't like it. She would vote for comfort rather than speed any time. (Unless she needs to escape from spiders or other vicious creatures, when all thoughts of comfort are abandoned and speed becomes an instant priority.) The 20-inch low-profile tyres are really not suited to Irish roads. Several times I thought I'd be ringing rescue services after driving into a seemingly innocuous dip in the road surface.
My initial impressions were how much the car looked like the A-Class, with the Mercedes grille and smooth aerodynamic profile. The pillarless divide at what was the B pillar looks especially good. Many people approached me and congratulated me on the beauty of my recent acquisition, volunteering to take it off my hands for a test drive for a year or two.
Gadgets
Inside, the coupe was fitted with the wide-screen TFT display, with a variety of dials and displays to choose from. The rear view out is restricted; it is a low car, but the rear camera compensates for a letterbox rear window. The door mirrors were fitted with neat blind-spot warnings, little red triangles that light up when the 'over-the-shoulder' area is occupied by an approaching vehicle. The test car had about €20,000 of extras fitted, including the pan roof.
It had 'lane departure warning' — I could feel a vibration through the steering wheel if I crossed the central line without using the indicators. This worked intermittently, and I wondered if this was due to the quality of the white lines on Irish roads. It would also steer itself around bends for about 20 seconds before saying 'come on now, your turn'.
It was my first time driving a car with LED headlights and they are remarkable in what they can do. Just drive and leave them on full. They will work out where the other cars are and then appear to introduce a 'curtain effect' to eliminate the high beam from dazzling whoever is in front, leaving the high beam for you to enjoy the hidden dangers of the average Irish ditch.
Another option I found useful was the adaptive cruise control. Most people I talk to don't use cruise control, as they find they are constantly adjusting it to compensate for the speed of the car in front. This one does it for you. It will bring the car to a stop if the car in front stops. It will even adjust to posted speed limits. Move, and the car accelerates back to your chosen speed. I felt it maintained a distance too close to the car in front; I've been trained in the 'two seconds' rule. There may well be a way of setting this, but I couldn't find it.
In summary
It is a car I can imagine covering long distances very quickly and very comfortably. It is a Mercedes, not a Porsche, so not a car that I can chuck around corners as well as others. Well, I could, but not as confidently. Someone asked me if there was anything I was disappointed about with the car. I said it was a little difficult for me to get out of the back seats. And I'd get rid of the low-profile tyres. That's all. Sums it up, really.
Overall, I found the car was smooth, comfortable, satisfyingly quick, yet well able to do 6.1l/100 on diesel.
Tyres
While we're at it, may I mention tyres — these came with good overall reviews recently.
(http://www.tyrereviews.co.uk/Tyre/Michelin/CrossClimate.htm)
Now that we're under pressure to use both winter and summer tyres in the respective seasons, these Michelin Cross-Climate tyres are recommended, as we have been told by Addison Lee — which operates the UK's largest passenger car fleet — that it has reported a 20 per cent reduction in its annual tyre bill after adopting a Michelin CrossClimate+ policy.