You are reading 1 of 2 free-access articles allowed for 30 days
A passion for life-long learning and excellence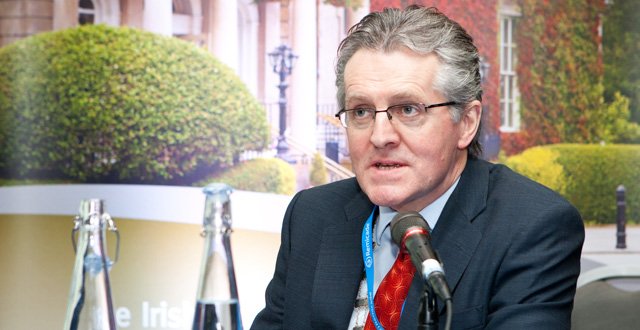 After a very successful two years as President of the Irish Society of Gastroenterology (ISG), Prof Humphrey O'Connor hands over the chain to Prof Padraic MacMathuna at the ISG Annual Summer Meeting. The conference takes place in Naas, Co Kildare on 4-5 June.
One of the focuses of Prof O'Connor's Presidency has been on ensuring the ISG's bi-annual national educational meetings have featured presentations on latest developments from the very best national and international leaders in their fields.
This reflects his interest in life-long learning and excellence. Indeed, Prof O'Connor was awarded the Clinical Professorship in Gastroenterology at Trinity College Dublin in 2009 and has also been awarded a Fellowship of the American Gastroenterological Association.
"It has been a huge honour to take on the Presidency of the ISG and I've enjoyed it an awful lot," Prof O'Connor told the Medical Independent (MI). "One of the bonuses of the job is, it is a bit like a sweet or toy shop when you are putting together the meeting programmes. You think of all the experts around the world you would love to hear or might have seen at an American meeting, and you get the chance to bring them to Ireland, to have that international expertise come to Ireland and present. The fact that they come shows the regard they have for the country and the Society, because in terms of research and clinical expertise, Ireland really does punch above its weight. There are plenty of Irish people in gastroenterology who are top of their business."
Prof O'Connor's final triumph as President is evident in the quality of the programme for next week's two-day ISG 2015 Summer Meeting, which features major sessions on inflammatory bowel disease (IBD), upper GI disease, liver disease, oesophageal disease, therapeutic endoscopy and pancreatic cancer, with the very best speakers from home and abroad.
Upper GI
During the session on the changing face of upper GI disease, Prof Brendan Drumm, Professor of Paediatrics, UCD, and former HSE CEO, will speak about helicobacter. Prof Drumm is a long-time leading researcher in this area, pointed out Prof O'Connor.
"Thirty years ago he was involved in one or two of the really seminal studies on helicobacter, published in the New England Journal of Medicine. There is no-one really better placed in the world to give a perspective on this disease," he told MI. "When you go back to that time, duodenal ulcer was very common. It has disappeared now; we don't see it and all that is almost exclusively down to [declining prevalence of] helicobacter. So it is less common, but it has been replaced by gastro-oesophageal reflux disease and the changing face of upper GI disease is a mirror image of the change in our lifestyle during that time. We've become more developed, more fastidious about infection, but at the same time we've become less rigorous about our diets and it has mirrored the obesity epidemic. Trainees now don't see duodenal ulcers, they see weight-related gastro-oesophageal reflux disease, which this session seeks to address," he commented.
There are plenty of Irish people in gastroenterology who are top of their business
Also speaking during this session will be a former colleague of Prof O'Connor — Prof Tony Axon, a Past President of the British Society of Gastroenterology who has a life-long interest in helicobacter, and Prof KL Goh, Consultant Gastroenterologist, University of Malaya, who will present an East/West comparison of the epidemiology of gastrointestinal disease.
"What Prof Goh is seeing in his clinics we saw 15-to-20 years ago, where patients are putting on weight, so it is changing there too," noted Prof O'Connor.
Worldwide speakers
As well as expert Irish and European speakers, the meeting will feature a number of speakers from some of the most prestigious US medical institutions.
Prof O'Connor remarked: "What I've done in relation to the US is, there are a lot of terrific Irish graduates working abroad and over the time I have been President, I've been very mindful of drawing on their expertise and place in world gastroenterology. That is not an overstatement and if you look at the programmes over the last couple of years, I've brought back people who have a particular expertise.
"For example, in the session on therapeutic endoscopy in the forthcoming meeting, Prof Martin Lombard is a terrific gastroenterologist who trained in UCD and the Mater Hospital and who was appointed in Liverpool.
"There is also Prof Kevin Mullen, a leading US hepatologist in Cleveland who is a world expert in hepatic encephalopathy. Then there is Prof Michael Goggins [Professor of Pathology, Medicine and Oncology], a true academic in Johns Hopkins University of Medicine in Baltimore who has spent his life's work researching pancreatic cancer… There have been great strides in the management of pancreatic cancer and there is no longer a nihilistic outlook about it," he said.
IBD
The longest item on the agenda at most gastroenterology meetings these days is IBD, largely because of the advances in targeted treatment, Prof O'Connor noted.
"These treatments seem to target the inflammatory process, though we are still fishing for the actual cause and what is actually driving the inflammation in the first place. The rate of development in IBD has been so quick in recent times, I felt we had to have another session to bring us up-to-date with what is best at the moment," he said.
Prof O'Connor is particularly excited about the session on oesophageal disease at next week's meeting, as it will feature two presentations from one of the world's leading experts on gastro-oesophageal reflux disease (GORD) and achalasia — Prof Peter Kahrilas, Professor in Medicine, Northwestern University, Feinberg School of Medicine, USA.
Are we giving patients the right treatment and service? That is the main driver of trying to get as much excellence into these meeting programmes as possible
"He is absolutely top class and works in Chicago. He is truly a world expert and as well as expertise on GORD, he publishes a lot on achalasia, so will discuss both. GORD is really the modern epidemic of indigestion and there seems to be no end to the market of products for it. Prof Kahrilas will bring some rationality to it. In addition, my colleague Prof Paul Ridgway, Consultant Surgeon, Tallaght Hospital, Dublin, is going to discuss optimal management of laparoscopic anti-reflux surgery, and in particular when not to do the operation.
"I think the two of them will work very well together and complement each other in that session," Prof O'Connor stated.
Biosimilars
There is increasing interest from the Irish medical community in the area of biosimilars, especially with the relatively recent European approval of a biosimilar for one of the longest-established biologics — infliximab. There will be two expert speakers on biosimilars during the IBD session at the meeting, and Prof O'Connor said the key questions are whether biosimilars are as effective as the established original medications and the pharmacoeconomic aspect.
"No more than the previous question, if a generic is as good as the original, this session will explore that. Can we save large sums of money by using biosimilars? I'm very interested in what the two speakers — Prof Arnold Vulto, Professor of Hospital Pharmacy and Practical Therapeutics, Erasmus University Medical Centre, Netherlands, and Prof Fernando Magro, Consultant Gastroenterologist, Centro Hospitalar, Portugal — will have to say. There is pressure to reduce costs, and some of our drugs in gastroenterology are a huge cost given the volume of usage so it is an issue we have to face," he commented.
Research
Prof O'Connor also has a strong interest in supporting and promoting Irish gastroenterology research. His research interests include helicobacter infection, endoscopic retrograde of cholangiopancreatography (ERCP), gastro-oesophageal reflux and prescribing patterns.
The meeting will feature oral presentations on a number of the submitted gastroenterology research projects. This year, there has been a significant number of submitted articles on liver disease and IBD, Prof O'Connor reported. "This reflects where research activity is moving towards in gastroenterology. The hepatitis C scandal that we inherited from the 1980s was curiously a trigger for a lot of fantastic research activity and significant findings in basic virology and hepatology in this country," he said.
The field of gastroenterology has a strong multidisciplinary element, given the breath of diseases and conditions it covers, Prof O'Connor continued. This is reflected in the ISG's meeting topics, speakers and attendees, which include pathologists, hepatologists, surgeons and oncologists, as well as gastroenterologists.
While next week's meeting will be his last as President, Prof O'Connor will continue to support the Society in ensuring its members experience the very best clinical presentations from the world's leading experts.
"Are we giving patients the right treatment and service? That is the main driver of trying to get as much excellence into these meeting programmes as possible. So we leave better informed and better able to look after our patients. All we hear about at the moment are standards or lack of standards and my role as President of the ISG has been pushing standards up, and ensuring that patients are getting the best… We have to keep up-to-date as a specialty and it is a pleasure doing that at ISG meetings," Prof O'Connor concluded.