You are reading 1 of 2 free-access articles allowed for 30 days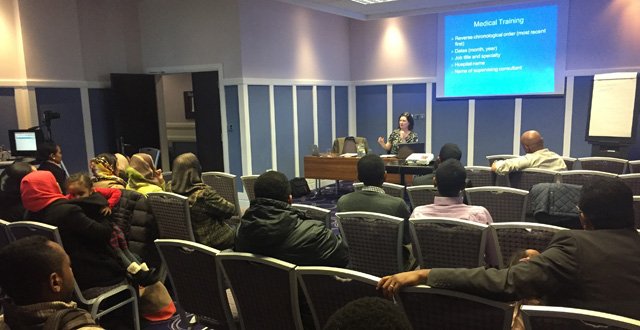 At present there are approximately 600 Sudanese doctors practising in Ireland. Two, who represent very many of them through their work with the Sudanese Doctors Union of Ireland (SDUI), are the Union's President, Dr Sohel Ahmed, a Consultant specialising in anaesthesia at Sligo Regional Hospital, and the Union's Academic Secretary, Dr Einas Elamin, a Senior House Officer at the Midland Regional Hospital in Tullamore.
The Union recently hosted an academic workshop in Dublin for new Sudanese doctors who had joined the Irish health system for the first time.
"Information about housing, taxation, CV writing and other practical matters was relayed," says Dr Elamin. "Those attending found it helpful, as did I. The feedback was excellent — so much so that we are hoping to make it an annual event."
Keen to point out how working in Ireland has become better for Sudanese doctors and the SDUI's role in this improvement, Dr Ahmed explains: "Before 2011, all international medical graduates who did not study in Ireland had to sit the Medical Council's PRES exams. Since then, things have changed for the better.
"In 2011 the Medical Council assessed internships carried out abroad so as to ascertain whether they were equivalent to the Irish standard," he continues. "When Sudanese internships were assessed to be not equivalent, the SDUI believed that this decision was made because the Medical Council did not — at the time when the decision was made — have all of the information requested and required.
"For this reason, the SDUI liaised with the Sudanese Medical Council and helped to ensure that the requisite Sudanese information was made available to the Medical Council. This was done, and in May of last year, the Medical Council recognised that Sudanese internships were equivalent to those in Ireland. "
Agreeing that for the young Sudanese doctors who have recently moved here, Ireland is becoming an increasingly good place in which to work, Dr Elamin says: "Since the Sudanese internships were recognised in Ireland, all that is required now is proof of proficiency in the English language."
Confirming that this development has led to Sudanese doctors feeling "much happier'"about working in Ireland, she continues: "The recognition of the internship pathways as a means of entry is hugely welcome, as is the fact that doctors who are already here can, if they choose, sit the PRES exams, should they decide to apply for training jobs. Before last year, Sudanese doctors were unable to train here, even if they sat the PRES exams. Because the pathway has been eased, Ireland has become a far more attractive location for Sudanese doctors seeking work."
Asserting that the previous system was "disappointing" for Sudanese doctors, many of whom were reluctant to work in Ireland, given that there was no chance for higher training here, she adds that remuneration was not the only issue: "It was more about the frustration felt by individuals who wanted to settle and work in Ireland, on finding themselves unable to train and avail of promotional opportunities."
Reflecting on the positive developments that have occurred, she acknowledges the hard work of her SDUI colleagues who worked for these changes down the years: "What is particularly good is that many Sudanese doctors who have been working in regular service jobs are now applying for training schemes and more are being enrolled and accepted."
'Pull and push' factors
As for what's still difficult for Sudanese doctors in Ireland, Dr Ahmed says it is becoming increasingly competitive for them and for other doctors, who have not trained in Ireland or elsewhere in the EU, to get into higher training programmes here.
"I would like to see that change," he says. "The country from which you graduated should not be an issue when it comes to deciding who gets higher training. But in Ireland, I think that it is true to say that those who graduated outside of the EU find that that fact goes against them."
Asserting that opportunities for this group's advancement are limited in Ireland, he continues: "The system openly favours Irish graduates for their higher training programmes. In my view, this is unfair, as everyone should be given the same, equal chance and because access to higher training should be based on merit."
Dr Elamin agrees that despite the progress made, the top challenge faced by Sudanese doctors today is the securing of training jobs: "Getting onto training schemes and progressing up the ladder to consultant level is challenging because opportunities are limited," she explains. "We understand that there is a preference for the hiring of Irish doctors, but we hope more jobs come on-stream so that non-Irish doctors can avail of them."
Work permits can also be a source of worry and concern for Sudanese doctors, according to Dr Ahmed.
"I would like to see the work permit system scrapped. I can't see the benefit of it. They are onerous for those trying to plan to attend conferences. Plus, they cost €300 per person. Some hospitals pay for the cost of work permits for their employees. Others don't. We pay all of our taxes here like everyone else. What we are looking for is equality."
Some hospitals pay for the cost of work permits for their employees. Others don't. We pay all of our taxes here like everyone else. What we are looking for is equality
Acknowledging that for those who have moved here from Sudan, settling into Ireland can be challenging: "But of course they settle in time and getting used to new work environments doesn't take that long, so it isn't a problem."
While confirming that moving from Sudan to Ireland can be "a difficult process" and "a huge culture shock" for some, Dr Ahmed says that his experience was positive. "When I moved here 11 years ago, I found the Irish people to be very welcoming. I think that was the experience of most doctors and nurses who moved here from abroad at that time."
In Dr Ahmed's view, Ireland is a "very friendly environment in which to train, work and raise a family". Given some of the findings of the Dr Niamh Humphries-led study A Cycle of Brain Gain and Drain — A Qualitative Study of Non-EU Migrant Doctors in Ireland, it's clear that Dr Ahmed's view reflects huge progress in the efforts made to improve the working experience of Sudanese doctors in Ireland.
According to the study, which was published in December 2013, "most" of the 37 respondent non-EU migrant doctors working in Ireland were actively considering leaving the country, as they had, in their opinion, been recruited to fill junior hospital doctor 'service' posts, which they considered to be unpopular with doctors who had trained in Ireland. The doctors polled said that as the service posts were not connected to formal postgraduate training schemes, they were 'becoming de-skilled'."
The extent of the dissatisfaction felt by those polled for that study is particularly pertinent, given the sheer volume of non-EU-trained doctors working in Ireland. In 2012, 23 per cent of doctors on the Medical Register were non-EU trained, and a further 4 per cent were non-EU citizens trained in Irish medical schools.
According to the Medical Council's Medical Workforce Intelligence Report, Irish-trained graduates, when compared with international medical graduates, "may be a less sustainable sector of the medical workforce, given their higher rates of exit from the Register and practice outside Ireland… Achieving more self-sufficiency through retaining domestically-developed doctors is likely to be a more favourable approach to medium- and longer-term medical workforce planning from the perspective of sustainability and best use of resources".
Acknowledging that 'pull and push' factors come into play when Sudanese doctors are deciding whether to stay here, return home, or move elsewhere ("most often to the Gulf states"), Dr Ahmed believes that Ireland has much to offer: "Despite the obstacles and what we see as a bit of unfairness, the quality of higher training here is superb and of a very high standard."
As for whether discrimination is or has been a factor for Sudanese doctors working in Ireland, Dr Elamin says that no such complaint has ever been made to her or to the SDUI.
"But if anyone was to make such a complaint, help would be given, of course," she adds.
Empathy
Empathising with those doctors whose internships are not recognised in Ireland, she continues: "We believe Ireland provides support and generous opportunities to work and train and we believe that doctors from other countries should be given the chance to avail of this in the way that Sudanese doctors have.
"Many of our colleagues in India, Libya, Egypt and Pakistan are still unable to enrol in training schemes in Ireland. This can change; we hope that their internships will be recognised in the way that those of Sudanese doctors have been.
"For that reason, a SDUI member spoke at the last general assembly meeting of Overseas Medics of Ireland, on the topic of how Sudanese doctors achieved that recognition, in the hope of helping others to do the same."