You are reading 1 of 2 free-access articles allowed for 30 days
A larger-than-life Irish doctor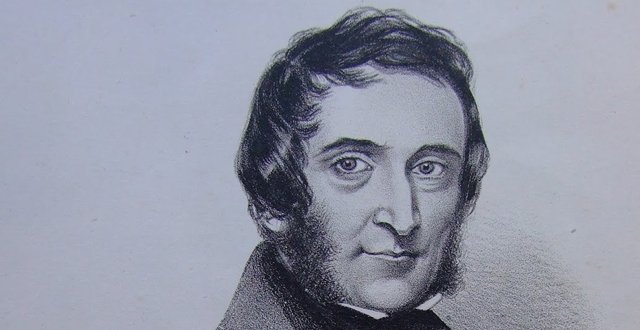 Dr Robert James Graves, who made history 180 years ago by defining the autoimmune disorder that causes hyperthyroidism, was above all a renowned physician whose contribution extended across the fields of endocrinology, cardiology, neurology and infectious disease. But he was also a larger-than-life figure whose story reads in part like something from the pages of a heroic novel.
He was once imprisoned on suspicion of being a spy and on another occasion, he was credited with saving a ship and its mutinous crew from disaster.
Dr Graves loved to travel, especially around continental Europe, and was a whiz at languages. His arrest happened while he was travelling in Austria, where he was imprisoned for 10 days while travelling on foot without a passport. The Austrian authorities thought he was a German spy, partly because none of them believed an Irishman could speak their language so well.
Apparently unperturbed by this unscheduled delay to his travel plans, Dr Graves continued on his European journey. Next, in the Swiss Alps, he met the English painter William Turner and they travelled and sketched together for several months, eventually parting company in Rome.
On his way from Genoa to Sicily, the story goes, Dr Graves saved a ship and its mutinous crew by assuming command during a storm in the Mediterranean. The vessel sprang a leak, the pumps failed and the crew attempted to abandon ship. But Dr Graves holed the one lifeboat with an axe, declaring to the crew "let us all be drowned together, it is a pity to part good company" and he then proceeded to repair the pumps with leather from his own shoes, so saving the ship and all aboard.
But his travels were not all about high adventure and derring-do. His main focus was to further his medical education. Dr Graves made it his business to become acquainted with some of the continent's leading physicians and physiologists during his travels and accumulated the kind of knowledge that would ultimately lead him to transform the practise of medicine in Ireland and spark a new era in medical training.
History
The Dublin into which Dr Graves was born in 1796 was a city in turmoil, riven by disease and disquiet. James Gandon had just completed the Four Courts. Elsewhere in the city, Theobald Wolfe Tone was planning the 1798 rising and Kilmainham Goal had just been opened.
Dr Graves's family, whose ancestors had arrived in Ireland during the Cromwellian plantation, was wealthy and well established in Dublin society. His uncle, Theaker Wilder, was tutor to Oliver Goldsmith.
Dr Graves graduated with a medical degree in 1818 at the age of 22 from Trinity College Dublin, where he was an acclaimed student and a Gold Medal Winner, which at the time was the highest student award. He subsequently gained a medical licentiate from the RCPI, where he later served as President.
He then began his travels to Europe, including a three-year tour of the top medical schools, with stops in Berlin, Paris, Copenhagen, Vienna and a number of Italian cities.
RCPI statue of Dr Robert Graves
Dr Graves returned to Dublin in 1821, set up his own medical practice and began introducing some of the new clinical methods he had witnessed on his European travels to Dublin's Park Street School of Medicine, which he had helped found, and to the Meath Hospital, where he became chief physician and lecturer at the age of 25.
Bedside teaching
He soon set about revolutionising clinical teaching. Latin was still commonplace for lectures but Dr Graves decided to abandon it in favour of English, immediately making his subject more accessible to students.
Then Dr Graves introduced another momentous change in Irish medical education. He had seen students participate in doctors' rounds at patients' bedsides in Germany and now began to pioneer that method of learning in Ireland. Under Dr Graves, students were able to observe patients in the hospital, ask questions, and assist the primary physician in diagnoses and treatment plans.
His 'bedside teaching' thus promoted the idea, which now defines modern medicine, that the study of a disease means taking into consideration that it is not just an abstract concept, but a condition embodied in a given patient. He went on to suggest that fatalities in hospitals sometimes occurred because of the indifferent treatment of patients. Dr Graves was putting into practice what he had stressed in an early introductory lecture in which he said: "From the very commencement, the student should set out to witness the progress and effects of sickness and ought to persevere in the daily observation of disease during the whole period of his studies."
His book Clinical Lectures on the Practice of Medicine was published in 1843 and won him acclaim in many parts of Europe. Dr Graves's mission was to reform the teaching system, under which students had been able to qualify without ever having examined a patient. He also advocated continuing medical education and lifelong learning, and co-founded the Dublin Journal of Medical Science.
Along with his fellow Irish medical luminary Dr William Stokes, Dr Graves was also one of the first Irish doctors to promote the use of the stethoscope, which had been invented in France in 1816.
Famines
Two decades before the onset of the Great Famine in the 1840s, Dr Graves volunteered to travel to Galway as an emergency physician during the famine of 1822. What he saw shocked and appalled him. He reported on the deaths and disease and the "consternation" he encountered when he arrived in Galway in late September 1822. Ties of blood, friendship and hospitality were frequently broken by the dread of contagion of typhus, Dr Graves reported, and those infected were either turned out of their cabins or abandoned within them to their own devices.
It was, by all accounts, a harrowing and transformative experience and it subsequently spurred Dr Graves on to introduce a new approach to the treatment of patients with fever. He advocated that doctors should 'feed the fever', a complete change from the previous approach of a sparse diet. Dr Graves developed the idea during his hospital rounds, while observing that a man starved for weeks became weakened but yet the medical profession expected a patient ill with fever to improve when starved and continuously bled. He attributed many deaths to this form of therapy and advocated frequent meals of steak, mutton or fowl, washed down with wine and porter. His work during this time and other epidemics led him to suggest that his epitaph might be: 'He fed fevers.'
Dr Graves was also instrumental in tracing the origin of cholera when an outbreak hit Ireland in 1832, proving that the disease was in fact infectious, a much-disputed theory at the time, and how it spread.
Acclaim
Today, Dr Graves is honoured as the first doctor to recognise the full symptomatology of Graves disease, specifically the correlation between exophthalmos (protrusion of the eyeballs) and an enlarged thyroid, in 1835.
But for all his fame, it seems the pioneering physician was also seen by some in high places as a bit of a rebel and cantankerous is his later life. While Dr Graves received in his lifetime all the honours that his local medical community could bestow, his outspokenness and criticism of contemporary government health policies probably prevented him from being awarded a knighthood.
He served as President of the RCPI from 1843-1845, and it is reported that while he wanted to serve another term, Dr Stokes won out. In 1877, a statue of Dr Graves was unveiled in the main hall of the College and still stands in the building's Graves Hall.
In 1849, Dr Graves was elected a fellow of the Royal Society of London and he was also an honorary member of a number of global medical societies, including in Berlin, Vienna, Hamburg, Bruges and Montreal.
Tragedy
But while he won professional acclaim, his personal life was often tinged with tragedy. In 1821, Dr Graves married his first wife, Matilda Jane Eustace, who died after giving birth to a daughter, who herself also died young. In 1826, he married his second wife, Sarah Jane Brinkley, but she also died with her daughter giving birth. In 1830, he married his third wife, Anna Saunders Grogan. He and Anna became the parents of six children. His grand-daughter, Georgina Graves Synge, was the aunt of the playwright John Millington Synge.
Dr Graves fell ill in the autumn of 1852 and is reported to have died from cancer of the liver on March 20, 1853, in his 57th year. He is buried at Mount Jerome Cemetery in his native Dublin.
But Dr Graves's legacy endures and continues to expand. A recent article by a number of international endocrinology experts in the Journal of Thyroid Research regarding advances in Graves' disease in recent years, said "dramatic progress" has been made over the centuries in understanding the disease that bears his name.
"Since 1835, when Graves described his disease, dramatic progress has been made in our knowledge of the illness. During these nearly two centuries, we have come to understand a variety of molecular, genetic and autoimmune mechanisms that give rise to and maintain the disease."
The article noted that there are several molecular target therapies under development that will significantly alter the clinical management of the disease within the next few years.
Sources: European Thyroid Association; American Thyroid Association; Journal of Thyroid Research; Endocrine Today; Biography and Portrait of Robert James Graves — Dublin University Magazine, 1842; History Ireland; Dublin Masters of Clinical Expression, Robert Graves (1796-1853), Eoin T O'Brien.