You are reading 1 of 2 free-access articles allowed for 30 days
A health check for Healthy Ireland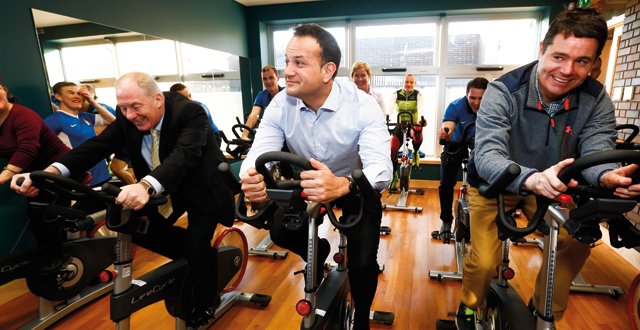 This year, we will hear much about the 1916 Proclamation's vision that the new Republic would set about "cherishing all the children of the nation equally".
Three years ago, at the launch of Healthy Ireland (HI), the former Minister for Health Dr James Reilly darkly echoed these words when warning of the challenges posed by chronic illnesses such as obesity in Ireland: "If we do not tackle this problem, we could very well be the first generation to bury our children," he said.
HI is the Government's overarching public health strategy and the current Minister has repeatedly flagged it as centrally important to his agenda. "When considering vision and policy for the future, I believe we should always start with Healthy Ireland, the Government-led programme to improve our personal and public health," Minister Leo Varadkar said in a detailed policy speech to the Institute of Chartered Accountants in November.
The task is massive, with an ageing population and growing challenges with health and wellbeing, particularly with issues such as youth obesity. So there is much to be getting on with. The 'whole of Government' approach of HI has been welcomed by many of those in public health who argue the lifestyle problems Ireland faces go far beyond the remit of the Department of Health and include the areas of education, planning and finance.
However it is on the eighth floor of Hawkins House, in the Department of Health's Health and Wellbeing Programme office, where the policy is driven.
"I suppose in one way you can conceptualise what Healthy Ireland is trying to achieve as a national movement," the Director of the Health and Wellbeing Programme Ms Kate O'Flaherty tells the Medical Independent (MI).
"But you can only really get that if people really buy into it, see their place in it, see what they contribute and get out of it."

Ms Kate O'Flaherty
But the scale of the project is vast, far beyond other more narrowly-focused public health programmes, such as the HSE's Crisis Pregnancy Programme or the National Office for Suicide Prevention.
"Sometimes it's hard to think of something that you couldn't put under the Healthy Ireland umbrella," comments Ms O'Flaherty.
"When you are looking at the health and wellbeing of the population, wellbeing is not just mental health, but quality of life. It's a huge agenda to try and draw together."
Ms O'Flaherty can point to an impressive number of national initiatives that HI has been involved in, including the first Healthy Ireland Survey (the second one is the field already, says Ms O'Flaherty), as well as legislation aimed at restricting tobacco, sunbed and alcohol use. The National Physical Activity Plan was launched last week and a new obesity policy and action plan "is quite advanced" and "the expectation would be that it will be finalised in the first half of 2016."
Alongside this, there is a connection with RTE's popular Operation Transformation programme and a growing number of local projects.
"What a lot of people in communities need is information, some support and some tools. They are able to do things themselves," says Ms O'Flaherty.
She highlights the Park Run movement as a "bottom-up" scheme "that was something that existed before… So we met with them a couple of times and we decided that we would properly fund that. Now we have over 42 park runs around Ireland and they are attracting corporate funding.
"We do not quite feel our way, but there has to be a certain flexibility to do things. The Department of Health in 10 years' time cannot be continually driving things like physical activity."
Awareness
The HI logo is found on all Department of Health (and many HSE) notices, press releases and the policy is often mentioned by the Minister, however, public understanding of HI remains slight.
Research undertaken last summer by DHR Communications found that awareness among the public of HI is very low. Just less than one-in-five people said they were aware of HI.
"Awareness of Healthy Ireland is quite modest (18 per cent) and highest among 25-34 year olds," concludes the research that has been seen by this newspaper following a Freedom of Information request.
"Almost one-in-five claim to be aware of Healthy Ireland, peaking at a level of one-in-four (24 per cent) among 25-34 year olds."
More than two years in existence, it may have been expected that awareness would be higher than this. However, Ms O'Flaherty says that although the figures are "modest", building the profile of the brand is a key part of the 2016 HI agenda.
"We did that as a baseline; DHR helped us with the development of the website, social media, putting a bit of communications and toolkit to the council," she says.
"Yes, it is modest, I suppose it is a baseline — it is not like we have invested hugely. The logo is there, and increasingly there in terms of initiatives that we partner with and campaigns with the HSE, so awareness is growing.
"So it is not a bad baseline, considering, but I suppose the measure of success will be in another two years or three years, once we have invested in promoting the brand and what it means."
Changes?
With an election looming, this has to be factored in when HI makes its plans for 2016, however most observers do not see much change from any possible new government.
"A new programme of government may or may not bring additionally priorities or an additional focus on some things," she says.
"It's a norm for the Department that you may have to review the business plan or whatever, and in our case there may not be much change. It is just a factor, given the year that is in it.
"I think there has always been cross-party political support in terms of what we now call the HI agenda, in terms of the smoking ban and other things. I think there is a broad understanding of what the critical issues are, whether it is obesity, smoking or our alcohol problem."
It is true that there remains a significant amount of goodwill towards HI. Political criticism from the opposition has been scant — somewhat unusual for a major government policy. It seems unlikely that any new government would radically alter the general HI project; most have bought into its agenda of long-term planning and cross-departmental action. But when can hard questions be asked of HI? When will we able to say definitively that it is working?
"Yes, we have to properly build the outcomes framework and know that we are measuring the right things and how they are going," acknowledges Ms O'Flaherty.
"If something like obesity or smoking starts to go back up again, we have to completely look at why it's happening. But certainly, trends have to be going in the right way. If they are not, then we are doing something wrong.
"Initial indications are that obesity in children and adults has levelled, hopefully stopped going up. It's way too high. Now our policy is not just to keep it at 60 per cent for adults — it's what's in our polices that can help it going down."
Concerned
There are some of those working in public health that are concerned that HI is not living up to its vision of a "whole of government" approach
Prof Joe Barry, Professor of Population Health Medicine at Trinity College Dublin's Centre for Health Sciences, tells MI that on the issue of alcohol policy, he thinks that departments beyond the Department of Health are not doing all they can.
"Well the first thing is that it is meant to be a whole of government approach and that doesn't always happen," Prof Barry tells MI.
"Certainly in the alcohol area, the Department of Finance hasn't really played any role, or the Department of Agriculture or the Department of Sport. So these are three Government departments that seem to be not embracing the spirit of Healthy Ireland with regard to alcohol.
"The Department of Finance should be increasing the excise and they should be putting a social responsibility levy on the alcohol industry. Those two factors are both recommended in the National Substance Misuse Strategy. I think the Department of Sport should have a phased withdrawal of alcohol sponsorship, as recommended in the Strategy.
"That is what I would like to see done, because it's the area I know most about."
Prof Barry thinks there should be more political leadership shown at the top level for HI.
"The Taoiseach endorsed it and there was big fanfare for its launch — this is about following through on all that. It is a big strategy," he says.
"I think he needs to be more proactively supportive of working it. That comes down to, on the alcohol side, doing the things I have outlined that I think should happen.
"We have the new guidelines (The UK's Chief Medical Officer's alcohol guidelines launched earlier this month); they are quite realistic. The only way we are going to get improvements in health vis-a-vis alcohol is if there is some regulation, because the industry will just play fast and loose with voluntary rules.
"The Department of Health is doing things in this area, but it should not just be up to this department. The whole point of HI is that it shouldn't just be the Department of Health."
HI structure
The HI team at the Department's Health and Wellbeing Programme comprises just six people, although many other people in other sectors do have some involvement in HI. The Programme reports directly to the Cabinet Committee on Social Policy on progress.
There is no separate HI budget, and other departments and areas spend some money on the policy, however MI has been told that the Department spent just over €600,000 on HI last year (see news story, page 3).
Former Department of Health Secretary General Dr Ambrose McLoughlin had a role from September 2014 to June 2015 "supporting cross-sectoral engagement and implementation of HI," a Department spokesperson tells MI.
"Dr McLoughlin retired the end of June 2015 and has no role in relation to HI."
The public face of HI is the Healthy Ireland Council. A 36-person body including doctors, sports stars and health experts, it is headed by former Irish international rugby player Keith Wood. The Department says no changes are expected to the Council membership this year.
The body has been praised for coming up with some innovative ideas and has now established specific sub-groups, but concerns have been raised over the size of the group — is it unwieldy?
"It's a big group of people," agrees Ms O'Flaherty.
"The Council has a remit to almost be advocates for Healthy Ireland and to mobilise the country in a way. But I suppose some of that cannot happen properly until you have other certain building blocks behind you."
Ms O'Flaherty says that a focus this year will be to use the networks and connections Council members have and to improve communication with the public.
"There is no dedicated Healthy Ireland Council budget for 2016. Costs incurred by the Council, such as the cost of meetings, travel etc, will be met from within the budget of the Department of Health. Council members are not paid," a Department of Health spokesperson told MI.
"They may claim expenses for attending meetings — €261 has been paid to date in respect of expenses for 2015."
As 2016 develops, Ms O'Flaherty believes that HI will have to look at "how do we embed health and wellbeing and Healthy Ireland into other big strategies and other policies, like [the] maternity strategy, into the cancer strategy, reviewing our mental health policy, national drugs strategy?
"It is also about how we bring everything that is in the framework into what the rest of the Department does and wider government.
"We are at an interesting time to see how do we better join the dots of the Healthy Ireland agenda and better local Government reform and education reform, for example."
HI has also had an impact on the education curriculum, with 'wellbeing' now part of the junior cycle.
"Everyone realises that it is not an easy thing to do, [but] we have the information, we know what the health problems are," says Ms O'Flaherty.
"When you look at how we solve them or address them, it is a cross-sectoral approach. They are not really health problems — in one way, they are more societal."
GPs crucial to Healthy Ireland
GPs are the health professionals people are most likely turn to for medical advice. That is according to research carried out for HI last year, and seen by MI under a Freedom of Information request.
The research conducted by DHR Communications found that 74 per cent of the public said they would go to a GP first for medical advice. This was followed by a local pharmacist (39 per cent), followed by a family member who is a healthcare worker (24 per cent). Just over one-in-10 people said they would go to an 'alternative practitioner'.
Older people (45+ years) are more likely to consult a healthcare professional, while women and the under 35s are more likely to refer to their peers for health advice.
"Medical professionals have a super important leadership role in advocating because they are the experts," says Ms O'Flaherty, who noted the results of the research.
"Ask people who they most trust in terms of getting health and wellbeing advice, and GPs come out way on top of that, followed by pharmacists."
Ms O'Flaherty believes changes brought in with the free GP care for under-sixes scheme could also help HI's goal.
"The under-sixes contract, building into that for the first time health and wellness checks at aged two and five. Start off with obesity check; over time the evidence may show that these are good ages to have a check on maybe mental health," she says.
"How do we tie all that up with early post-natal checks, and childhood immunisation and certain developmental checks? So we have a more streamlined system on how we intervene and who intervenes.
"While it's brilliant that GPs will be able to do those wellness checks on children, they obviously need training and support to do that, and where do they refer if they are concerned about a child at aged two or five if they are overweight?
"Our vision is that they [GPs] have a really important part to play because the public obviously see them as what they are, the experts on health. It's about how we support them to do that, in a way that works for them."
Do we need a healthy hero?
Irish boxing Olympian Katie Taylor is the most prominent health role model for Irish people, according to research conducted for HI.
However, many people could not name a health role model after being asked by DHR Communications on behalf of HI last summer.
"The inability to nominate a health and wellbeing role model is consistent across all of the demographics, with the exception of 25-34 year-olds, who were at least able to provide an answer," reads the research seen by MI following a Freedom of Information request.
"Two-in-five were unable to nominate an Irish role model for health and wellbeing. Although individual persons were mentioned at modest levels, Katie Taylor was most widely nominated and sportspersons are generally believed to be good role models. "
While Taylor was top for women, for men it was Brian O'Driscoll, the singer, fitness and mental health advocate and TV presenter Bressie and coming in third place was Minister for Health Leo Varadkar.
But having healthy role models is not the only way of influencing healthy choices being considered by HI. As reported by MI last June, the National Advisory Committee on Bioethics is working on advice for the Minister for Health and his Department on the ethical implications of 'nudge'. Nudge is the use of behavioural economics to nudge people towards better healthy choices.
MI asked Ms O'Flaherty whether the focus of HI is on legislation or rather 'nudging' people towards making better personal health choices.
"For certain things you need a level of legislation or a fiscal measure, or planning our physical environment," she answers.
"However, people also interact with that regulated environment so you also have to work on people's skills and attitudes on how they interact with that. It is also working with those sectors, such as the food industry. How do they make their products healthier by our standards?
"You are also working around children and parents about their attitudes to healthy diet. What are the skills people need?
"A lot of this may in the end be driven by consumer demand — industry will respond to that."