You are reading 1 of 2 free-access articles allowed for 30 days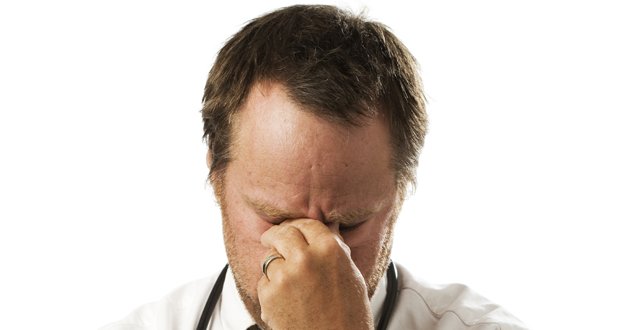 might be familiar to many
The doctor pulled his jeep up beside the postman's van.
"Here you are Dr John, are you surfing today? A grand day for it."
"Maybe later. I have to do a house call on the headland."
"Long way! Good luck now."
It was a long way – 21 miles and well outside his catchment area. And it was his third time this week to call on Mrs Flanagan, but her own doctor had gone to the Middle East and he was picking up the pieces.
John rifled through the bundle of post. He dropped the large pink envelope that contained his pay details on the passenger seat, unopened. He knew exactly how much he had got, as he had started checking his bank balance online every day. It was a depressing pastime, as he was seriously in debt after all his years of hard work.
This was the letter he wanted. He ripped it open. It was from the out-of-hours co-op. His eyes ran down to the bottom line, and then he dropped it beside the pink envelope. He was screwed. They had rejected his application for membership again. He stared at the sea, the cliffs, and the horizon. It was just too rural.
He had spent years trying to persuade the GPs, the health board and the patients that it was the way forward, and now they excluded him…
John started his van and pulled out onto the road. He thought of the meetings he had held to get that co-op running. He had spent years trying to persuade the GPs, the health board, and the patients, that it was the way forward and now they excluded him because he was too remote, and instead wooed the town doctors who were in least need of it. The co-op had turned into a moneymaking venture. It wasn't supposed to be about money, it was about co-operation. He would have to stay on the one-in-one so.
The sun shone on the sea and the waves were curling nicely. He imagined that he could see Clare out there, balancing on a surfboard. Nobody could surf like his daughter. She would love a day like today. She had Skyped him last night from Switzerland. She had been unenthusiastic about her research job, and full of questions about the locals and the practice. John wished that he had not been so negative in his replies. He was trying to persuade her not to come home and take over the practice. If only she knew how bad things were, and how he was running at a loss. And yet he could do with her; he could do with anybody. He just couldn't make himself tell her how hard things were.
As he drove down the long winding road to the headland the jeep seemed to get bigger and bigger. He had bought it 12 years ago to carry his pack of children and their canoes, surfboards, and wetsuits. They had all left, scattered around the world. The jeep was holding out well, but she was hard on diesel. And he wouldn't get a penny in mileage for this long trip. The fields were small now and the cocks of hay, four or five to a field, were com-pleted. He had watched them go up on his trips out to Mrs Flanagan.
At last he pulled the jeep up outside her house and went in. She was like a little bird, perched up in her chair. She was much improved from the wreck she had been a week be-fore, for he had successfully added antibiotics and steroids, juggled her diuretics, and kept her out of hospital. Her chest sounded good.
"I'll live to fight another day, doctor."
"You will Mrs Flanagan."
"But you look destroyed, Dr John, a stór. Will Clare be coming home to give you a hand?"
He packed his bag and left.
Clare had been tearful on Skype. He would say she had had a few on board, which was unusual for a sporty girl like her.
"It's the sea, Dad. Here there's only sodding lakes. They're flat. Sometimes they get up a bit of a storm, but it settles down. And their lives are like that. The economies are stable, they have proper infrastructures, put things aside for a rainy day, like decent hospitals and services. In Ireland you're battered by the waves. It's like surfing; you're up spending money like there's no tomorrow, thinking you'll never be poor or sick, and then you crash down. And the likes of me have to feck off and the likes of you have to plod on doing everyone else's job."
He pulled up the jeep, looking out on the Atlantic swell. He hadn't got out there once this summer. Nor last summer. He couldn't be seen out on the water for a few hours while he had the whole place depending on him to be available night and day. Maybe he would get a locum in the winter for a few days, because he had no hope of getting one for the summer. He would go out to Switzerland and see how Clare was really doing.
He looked at the waves. Would things ever settle down? Bloody surfing.