You are reading 1 of 2 free-access articles allowed for 30 days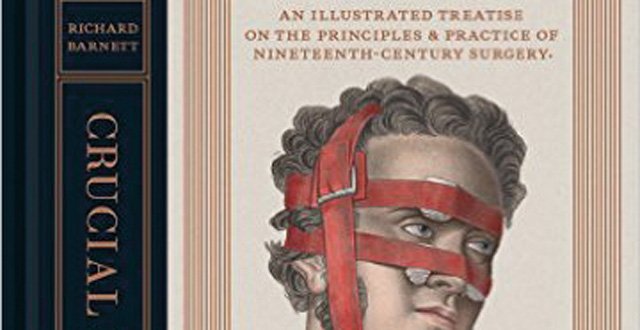 This magnificent compendium with a foreword by Prof Roger Kneebone is essentially a book of illustrations, hundreds of them, interspersed with short historical chapters. Barnett has published (2014) a previous medical collection titled The Sick Rose, and both are drawn from the superb Wellcome Collection in London. A visit to the Wellcome Museum is mandatory for all medics on their next trip to London. Merely cross the road from Euston Station and there you are.
Surgeons, surgical trainees, retired surgeons interested in history, and most medical doctors, should love this treasure trove of beautifully drawn surgical operations, collections of surgical instruments, amputations, post-mortem examinations and gore galore. At €17.50 (in Hodges Figgis), it represents great value; the UK cover price is £19.95.
Prof Kneebone is a trauma surgeon (not an orthopod) and calls this a book to be "savoured". In my time, I have come across a Dr Doctor, Dr Slaughter, Dr Blood and a Dr Brilliant. All those words are encompassed in this text.
I liked most the chapter on 'The Thinking Hand', discussing the craft, art, science and skill of surgery. A treat of a treatise.
John Halle (1530) said that "a surgeon should have a heart of a lion, his eyes like the eyes of a hawk, and his hands as the hands of a woman". In the 19th Century, all surgeons were men operating in their street clothes. Did you know that the word 'surgeon', from its Greek origin, meant a 'hand worker'? Speed, of course, was of the essence in the absence of anaesthesia.
Barnett alludes to differences between "pious physicians" and "blood-stained surgeons". There is an interesting diagram of a physician reading a text manual from on high, while the lowly surgeon opens the corpse for a post-mortem. By the end of the 18th Century, surgeons had achieved professional parity with physicians. The growth of professional colleges and surgical specialisation meant the end of barber surgeons, rude empiricists and "open murtherers".
Individual surgeons became national heroes — for example, Joseph Lister in Britain, Theodor Billroth in Germany and Harvey Cushing in the US. Barnett is a fan of the Parisian schools in the development of surgery and their influence in the teaching of surgery.
There is an interesting diagram of a physician reading a text manual from on high, while the lowly surgeon opens the corpse for a post-mortem
The additional developments in anaesthesia, antisepsis, nursing instrumentation techniques and asepsis continued apace during the 19th Century. Anaesthesia progressed surgery from viciously painful butchery to inhaled sleep and peace. Curiously, mesmerism (hypnosis) was used in 1842 prior to anaesthesia. It came as a surprise to me to read of "dwale" — a mixture of hemlock, opium, henbane, pig's bile and vinegar — which had been used in 12th Century England "to make men sleep whilst man cut him". Wine and other alcoholic mixes seem like poor substitutes.
Barnett includes chapters on surgery and ward teaching, organising surgery, the patients' perspective (mainly to appalling painful experiences) and to various segments of the body. The writing is short and concise because this book is all about paintings, drawings, etchings, lithographs, engraving and illustrations, which fill the pages and appeal to (if occasionally appal) the eye. The illustrations are often superior to and clearer than modern (even digital) photographs, giving contrast, nuance, spatial dimension, sharper highlights.
A few minor quibbles. The page numbers are indistinct in red and some of the red diagrams are difficult to decipher. The index is but two pages and a bit sparse. There is ample further reading for scholars and surgeons.
For thinking heads and thinking hands, this text is a feast. Were it a modern novel, its cover and frontispiece would be adorned by reviewers' accolades — superb, fantastic, magnifique, memorable, gruesome at times, but always interesting, illuminating and incredibly illustrated. But not a book for the home coffee table or the waiting room reading.
Well done Mr Barnett. I await the trilogy in due course. Barnett must be in line for an honorary FRCS, due reward for a medical student who changed his vocation from medicine to medical history.