You are reading 1 of 2 free-access articles allowed for 30 days
A better future for primary care?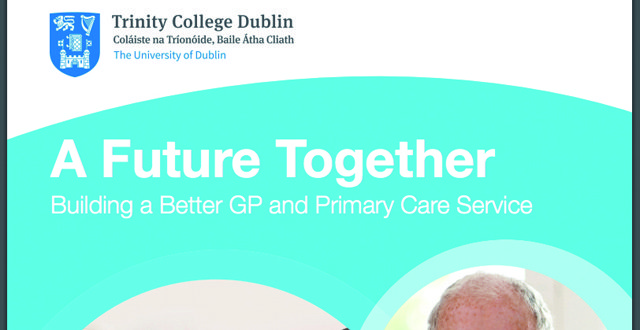 "Reform of primary care in Ireland has been on the agenda for several years. The current system is seen as fragmented, poorly developed and unfair. To achieve reform requires a decisive shift towards general practice. For such a shift to occur the State needs changes in its contractual arrangements with GPs. Such changes will then facilitate wider changes in primary and community care services."
This is the opening paragraph in a new report A Future Together: Building a better GP and Primary Care Service, which was published by the HSE earlier this month.
The report was commissioned by the HSE's Primary Care Division to inform the development and planning of the new GP contract and was produced by a team from Trinity College Dublin (TCD), led by Prof Tom O'Dowd, Emeritus Professor of General Practice, TCD, and practicing GP.
The scope of the report includes a review of how primary care operates internationally, consumer research, and targeted, qualitative interviews to obtain the views and insights of key individuals working in the wider healthcare system. Combined feedback from over 6,000 people made this one of the largest engagement initiatives undertaken by the HSE. Key themes included quality, access, cost and range of services.
In a nutshell, the report highlights low levels of funding for Irish general practice, at about 4.5 per cent of the overall health budget, and very low levels of practice staff, relative to other health systems.
The report maintains that a decisive shift to GP-led primary care is an essential component of healthcare reform and that significant transitional funding is needed, both in the short- and longer-term, to achieve this.
At the report launch, Prof O'Dowd gave a detailed overview of the process involved in developing the report's statistics and findings.
Mr Tony O'Brien, Prof Tom O'Dowd, Minister for Health Simon Harris, and Mr John Hennessy
Spending
The report estimated that 4.5 per cent of the entire health budget is spent on payments to GPs – the lowest proportion of the comparable countries that were studied.
The overall public and private spend on general practice in Ireland in 2014 was €858.6 million. About 42 per cent of the population has various levels of GMS coverage, which resulted in €543 million or 63 per cent of the entire spend on general practice.
GMS patients consult on average 5.63 times per year and private patients 2.69 times per year.
Staffing
Ireland has 6.26 GPs per 10,000 population. This is broadly similar to Denmark, Germany and the Netherlands, but significantly lower than Scotland, Prof O'Dowd pointed out. Countries that are rated highly on measures like access and services have higher numbers of practice-based staff, including allied health professionals. Ireland has the lowest practice-based staff ratio of the countries studied.
Patient satisfaction
Overall 90 per cent of patients in the consumer studies conducted for the report were satisfied with their last GP visit. Most patients said they found it easy to find a GP. Patients were prepared to go on a waiting list for a recommended GP. Ease of access for appointments was also rated highly, with most parents of children commenting on being given priority and same-day appointments. The cost of seeing the GP deterred one-in-three patients. This was highest among those paying for the service and younger patients.
Out-of-hours and IT
Out-of-hours GP services now provide over a million consultations annually. The consumer surveys indicated high awareness and use of this service. Accessibility and satisfaction with out-of-hours service was highly rated.
General practices in Ireland are early adopters of IT. It is used for recording administrative, clinical and prescribing details and for screening programmes. The use of e-referrals to hospitals is increasing, but links with hospital IT systems are a cause of concern for GPs, said the report.
Diagnostics
Access to diagnostics, in particular radiology, is an ongoing bugbear for GPs, the report confirmed. Poor access to diagnostics was cited as a factor by GPs in training for leaving general practice.
Future GPs
GPs in training were not interested in single-handed practice, the report found. They see themselves working in a multidisciplinary team in order to provide better patient care. A significant minority is unwilling to take on a GMS contract on graduation from training due to the risk of becoming an employer and the complexity of the contract. Many are interested in becoming salaried GPs for a limited amount of time before they become partners in a practice. They are willing to become managing partners later on in their careers.
Scope
Prof O'Dowd described the report as "an extensive piece of research that places Ireland's primary care and general practice in an international context".
"It confirms that investment in primary care leads to better health outcomes at lower costs. There is an international and national consensus on the value of primary care, as confirmed in the Sláintecare Report. Freeing up GPs to spend more time on what they are trained to do requires orientating more nurses, physios, psychologists and social workers towards primary care. There is a lot of scope for investment in Irish primary care to enable it to play a full part in the healthcare system."
Funding
Also speaking during the launch of the report, HSE Director General Mr Tony O'Brien acknowledged the need for primary care to be given a significant increase in funding – in the region of €500 million per year over 10 years.
"The key message from this report is that only through the appropriate development and expansion of the capacity of general practice in Ireland, can we provide the type of healthcare system that our society now needs. It is in keeping with the work that the HSE is doing in reconfiguring our services away from a hospital-centric system to a primary care-led system and it lays the foundations for the changes that we will need to see in primary care and GP care over the next 10 years."
Responding to queries from the Medical Independent (MI) about what percentage of the budget general practice actually needs in Ireland, Prof O'Dowd said "about double what it currently receives", so approximately 9 per cent of the health budget, with a significant cash injection in the short-term. "And that has to be done over a five-year period, so you increase funds by half a per cent or 1 per cent annually. The Scottish RCGP is looking for 11 per cent of the budget…. We need to move reasonably quickly to 6.5 per cent of the healthcare budget, especially if we are to move services into the community…."
HSE National Director of Primary Care Mr John Hennessy, said he believed a five-year timeframe was realistic to implement the required increase in primary care funding. He also voiced his support for increased diagnostic access in primary care. During the report launch it was explained how a new x-ray service in a primary care centre in Mayo has eradicated waiting lists for x-rays in the local hospital.
Minister
Launching the report, Minister for Health Simon Harris said it "provided the evidence-base for what primary care can do" and acknowledged that "we are doing far more in our hospitals than other countries do in the primary care setting".
He reiterated that the "development of primary care is central to the Government's healthcare plans and is in line with Sláintecare. The provision of a primary care fund in Budget 2018 demonstrates this commitment, as does the fact that we now plan multiannual funding for primary care".
In relation to the GP contract he said he "would like to see agreement reached with GP representatives in the coming months on significant service developments that can be introduced during 2018. This will be the start of a multi-annual change process that will enhance the role of primary care as the foundation of a more accessible and effective health service".
He rejected a suggestion from MI that the pace of the GMS negotiations had been very slow to date and that GPs were frustrated at the lack of progress; "good progress is being made", he maintained.
The Minister's comments on the cost of GP consultations for private patients during the report launch, however, caused anger among GP representative bodies and GPs on social media. Minister Harris said he was concerned about parents "being kept awake at night" by the typical €55 to €60 consultation fee for their child and said he wanted to expand coverage for GP services.
"I understand that GP representative bodies have concerns about free GP care and I get some of those concerns, but I will not compromise from my perspective on the point of view that parents having to fork out €55, €60 to go to the doctor – that that is an acceptable level. I have mentioned that the idea of co-payment is something that Sláintecare leaves open… or indeed a certain number of visits a year. These are all things that we can look at, but the current system is out of kilter with a lot of best international practice," he told journalists at the report launch.
However, GPs pointed out that they are already struggling with the demands of the under-sixes contract and a worsening manpower crisis.
NAGP President Dr Emmet Kerin called on Minister Harris to clarify his comments in relation to consultation fees for private patients. He suggested that the comments would be contrary to competition laws that bind GPs and were "interference".
Welcome
The report received a broad welcome from GP representative bodies.
The ICGP said it supported its key message that reform of Irish healthcare requires a decisive shift towards general practice, with a new contract underpinning this.
"We welcome this report as a recognition of the need for more GPs and the recognition that GPs can provide the foundation for a new model of integrated care," said Dr Mark Murphy, Chair of Communications with the ICGP.
"Irish general practice lost over one-third of income from the imposition of the FEMPI cuts and this must be reversed as a matter of urgency to address the issues of retention and shortage of doctors," he added
The NAGP also welcomed the report and the HSE's recognition that transitional funding is essential to support a move to GP-led primary care. Dr Kerin said: "This report is a commendable body of work that supports the approach that all stakeholders have been discussing – moving more patient care into the community and resourcing general practice."
The NAGP called on the Government to take on board the recommendations in the report as well as the Sláintecare Report. "We must start to see some credible progress on behalf of patients as we face into yet another challenging winter," Dr Kerin said.
The IMO also welcomed the report, but speaking at the Q&A session during the launch, IMO Chief Operations Officer Ms Susan Clyne called on the HSE and Department of Health to make available the money needed to roll-out a new GP contract as soon as possible, saying the new report would "become just another report" that sits on the shelf otherwise.